The assimilation has begun. Resistance is futile.
Although it wasn't supposed to happen until 2008, I have evidence that Google and Amazon have already joined forces to create Googlezon, a platform combining Google's superb seach engine technology with Amazon's "social recommendation engine" and "huge commercial infrastructure." Here's the story:
On Tuesday, I had one of my "40-something" brain lock moments at the office. I had a patient in the chair with early macular degeneration for whom I planned to prescribe Ocuvite eye vitamins. The only problem was I couldn't for the life of me remember the dosage.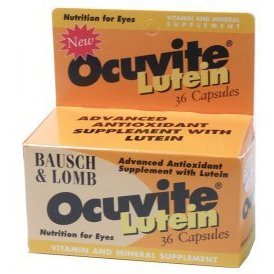 So I turned to my computer and while explaining the reason for the vitamins to the patient, quickly typed "Ocuvite" into Google and found the website, which of course provided me with the proper dosage–all in a matter of seconds.
Yesterday, I went to Amazon to look up a book that I was interested in purchasing, and low and behold, what should I find listed at the top of the page but a "recommendation" suggesting that I purchase Ocuvite along with listings for several other "similar products."
Whoa. That can only mean one thing–Google ratted me out to Amazon. And that means that the two of them are talking to each other, a full two years ahead of time to boot.
I can only imagine the conversation taking place these days:
Google: "Hey, Z, check out the Eyeguy! He forgot a dosage again and had to look it up. What a loser, I thought doctors were supposed to be gods and know everything."

Amazon: "What up, G-man?! Yeah, that's been happening a lot since he turned forty. Say, uh, if you don't mind me asking, what drug was it?"

Google: "Ocuvite with Lutein. You ought to bring that one to his attention next time he wanders over your way."

Amazon: "Excellent idea, Goog, will do. What else has he been looking up lately?"

Google: "Well, let's see…baldness remedies, Nancy Grace, Spinal Tap, oh, here's something you might be interested in, he seems to be checking out laptops a lot these days. Computers that is, not dancers."

Amazon: "That can only mean one thing: Mother's Day is near and he's thinking about getting a new computer for Eyegal. Typical guy–buy the latest electronic gizmo for your wife so that both of you can use it. What a clueless moron!

Google: "No argument here Z!"

Amazon: "Thanks Goog, that's very useful information. I'll flash a few laptops and a few other digital thing-a-ma-jigs next time he's over here and see if he takes the bait. I might even throw up a few DVDs like King Kong and Jarhead. Heh, now there's a couple of 'chick flicks' for ya!"

Google: "Hey, go easy on him Z! Why don't you throw in Pride and Prejudice and Tristen and Isolde in there too–don't make him look too bad. Hey no fair, here I am spilling all the beans and not any poop from you. Come on Zster, give it up!"

Amazon: "All right, all right. The latest titles he's been checking out include How Soccer Explains the World: An Unlikely Theory of Globalization, Father Joe and Da Vinci Code Decoded. Oh, and check this out. He's been looking at this book written by some chick named Nancy French which will come out this fall. Get a load of this title: A Red State of Mind: How a Catfish Queen Reject Became a Liberty Belle. Now that sounds like a real must read! Seems he's also been looking at another one she wrote called South Pacific Journal. Heh, looks like we've got a few copies of that one in the bargain bin. Hey, wasn't there a musical with that name?

Google: "Yup, sounds like a clear cut case of plagiarism to me. Well, that's all very interesting Z. Ya know, this whole Googlezon thing is working out quite nicely, don't ya think?

Amazon: "Indeed, G-man, indeed. They're eating out of our hands and don't even realize it. Pretty soon, they will be fully assimilated and become one with Googlezon."

Google: "That's right, Z! And there's absolutely nothing they can do about it because, as the Borg would say, 'resistance is futile.'"

Google and Amazon: (peals of sinister laughter)
And so on and so on, like two cyberwags gossiping across a fence.
This is no dystopian fiction. This is real, and it is happening now. Prepare to be assimilated–Googlezon has begun.