I Am Dr. Michael Brown, Optometrist; I Am Not @plutokiller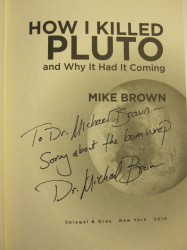 My name is Dr. Michael Brown, aka "Mike the Eyeguy," and I'm an optometrist who has always loved Disney characters and small, remote planets.
I would never kill Pluto. I may be more of a Goofy Man myself, but I have no interest in dissing  Mickey Mouse's lesser-known pet pooch. Nor have I supported demoting poor little Pluto from the status of noble, outermost outpost planet, guarding the far boundaries of our Solar System from alien invasion, to a mere member among many in the Kuiper belt, a rather shady band of steroid-enhanced asteroids and dwarf planets.
And I think I can speak for the other three Dr. Michael Browns whom I know in Huntsville as well. Oh sure, we have our differences (one's a gastroenterologist–aka "GI Guy"–one's a urologist and the other a pediatric dentist), but we've always managed to work through them and get along. When we get calls from mutual patients, we do our best not to practice the others' specialties and instead direct the lost organ systems to the appropriate provider. When we get another Dr. Mike's mail, we always try to return the stray letter to the proper office. Just the other day, in fact, I received a patient's personal check and a reimbursement check from a dental plan made out to "me," and after only a few moments of hesitation and soul-searching, forwarded them on to my DMD namesake.
But none of us would have ever killed Pluto. That would be "the other" Dr. Michael Brown, the astronomical assassin from Cal Tech who's originally from Huntsville, attended Grissom High School (where No. 1 Son prepped) and went on to become a Princeton Tiger. He was in town to speak at Randolph School last night and to sign his new tell-all confessional book, How I Killed Pluto and Why It Had It Coming.
Finally, I thought, a chance to confront my evil twin and give him a piece of mind! I would show up, unannounced, and extract from him an apology–in writing!
Unfortunately, I forgot my paper and pen. Which means I had to stand in line and buy his book (for full price, of course). Then I had to stand in another line and listen to his gang of intergalactic groupies gush about the feats of their hero as if he was some kind of Buzz Lightyear.
Sir, I served with Buzz Lightyear; Buzz Lightyear was a friend of mine. Sir, you are no Buzz Lightyear!
I watched a bouncy, delightfully nerdish 3rd grade Johannes Kepler-wannabe named John who looked like he was ready to lift off into orbit himself, so excited was he to meet his hero and "role model." Wait, why is this red-blooded Alabama boy wearing an E=mc² t-shirt and not a Cam Newton or Mark Ingram jersey, I thought? What is this country coming to?
Finally, it was my turn. I stepped forward, shot him one of my krypton laser stares, and said, "Dr. Michael Brown, I presume? My name is also Dr. Michael Brown, and I'm one of four in town (that I know of) and we're all sick and tired of getting dragged down with this bum rap! It's time to set the record straight–WE DID NOT KILL PLUTO!"
I think I caught him off guard–you should have seen the deer-in-the-telescope look on his face! But as it turns out, he was very understanding and was quite the gentleman and scholar. He even wrote that apology in the book: "To Dr. Michael Brown– Sorry for the bum rap. Dr. Michael Brown." We had come to an understanding and worked it out like two professionals with entirely different terminal degrees. We were even on a first and last name basis.
Later, I listened to Dr. Brown's presentation, and he had even a planetary pacifist like me convinced–Pluto must die, Die, DIE!
But Dr. Brown, I hope you understand this: If a peeved Plutonian hit squad shows up at my house with their Death Ray guns aimed at my head, don't expect me to take the fall.
I know what you look like and where to find you: On Twitter, @plutokiller. You have been warned.