Dear God, Are You Looking for a Team?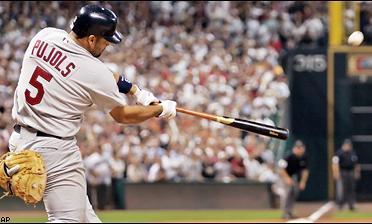 Albert Pujols rescued the St. Louis Cardinals from the brink of elimination a few moments ago with a dramatic 9th inning, two-out, three run shot off of Brad Lidge to give the Cardinals a come from behind 5-4 win and keep alive their hopes in the NLCS. In the process, he kept alive America's hopes of not having to suffer through the most boring World Series in MLB history ('Stros v. Chisox).
It's back to the comfortable confines of Busch Stadium now (scheduled for demolition after the final out this year) and, God willing, some more Cardinal heroics.
I say "God willing" because it appears that, despite my fears expressed earlier, God has dumped the Angels and may be looking for a team to sponsor. If so, I wish to point out that the Redbirds have been without a World Series title since 1982 and have endured more than their share of heartbreak in Series appearances since (remember The Call, O' Lord?).
I can understand God turning the Cardinal's bats from sticks into spaghetti noodles last year in order to lift the Curse of the Bambino (cursing is a bad thing that needs to be stopped in it's tracks). If this is about that little Budweiser thing, I could cite a few passages from scripture about how an occasional alcoholic beverage in moderation is a gift of God, but I figure that he already knows that and that it probably wouldn't do any good to bring it up.
I'm just hoping that the Lord on high will look upon the suffering of the Redbirds and consider them favorably. I know it's not 40 years in the desert, but 23 years without a title is still a long time.