You probably didn't hear about in on the news or social media, but Norah Jones got lost Friday night.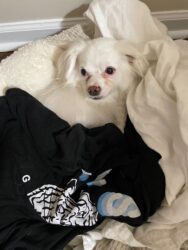 Not Norah Jones the jazzy, Grammy Award-winning singer-songwriter, although that is who this off-course and drifting NJ is named after.
This NJ is a hoary, miniscule canine furball of uncertain provenance who is at least half blind and almost completely deaf. She belongs to Number 2 son and his girlfriend N. who rescued her several years ago and have been re-rescuing her ever since.
They've gone to great lengths to keep her as healthy and happy as possible despite her apparent granulomatous meningoencephalomyelitis (GMC), a progressive inflammatory disease which attacks her central nervous system and affects her motor control.… Read the rest