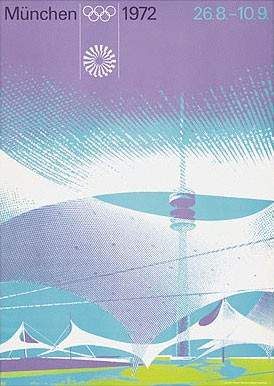 In a few minutes, I'll lace up my Nike Vomero running shoes (black and gold swoosh for Harding–Hail, alma mater!) and once again hit the pavement for an early morning 5-miler. It's a habit with roots from the early 1970s, more specifically, the 1972 Olympic Games in Munich, Germany.
I've been reminiscing some about that time these past few days as I've been writing my next Huntsville Times community column which will appear on August 10th, the opening weekend of the 2008 Beijing Summer Games.
Here's a sneak preview:
During the 1972 Munich Games, American runners like Jim Ryun, Steve Prefontaine, Dave Wottle and Frank Shorter captured my elementary schoolboy imagination and launched my own much less stellar running career…
…I fashioned a makeshift running singlet by cutting off the sleeves of a white t-shirt and stenciling a crude "U.S.A." across the front in red and blue magic marker. Soon I was racing an imaginary Kip Keino around my house, and I eventually wore a bare path in my father's lawn, not as sacred and pristine as the track at the University of Oregon's legendary Hayward Field, but just as oval…
Intrigued? Check back on August 10th for the rest of the story.
From the opening ceremonies until the Olympic flame was extinguished and the charge given to the world's athletes to reassemble in Montreal in 1976, the Munich Olympic Games were marked forever in controversy and tragedy.
I'll be serving up some of my own memories of that time and trying to track down some vintage YouTube footage as well.
It would go even better if we could make it a group project. Where were you in '72?
To my Gen X and Y readers: Yeah, yeah, I know some of you weren't even born yet. But you can still talk about your earliest Olympic memories if you like.