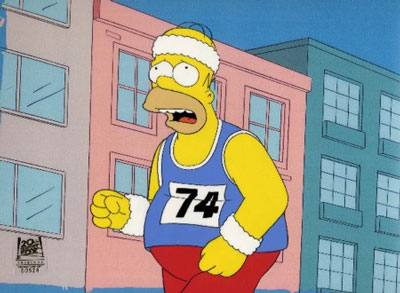 It's August in Alabama, and that means triple digit heat indexes all across the state over the next few weeks. It's sauna city the instant you step out the door, and then just try doing anything. The gurus at Nike haven't even conceived of wicking fabric that can pump away the gallons of sweat produced on a typical Deep South "dog days of summer" afternoon.
That makes exercise in this stuff particularly tricky. Do I go for a morning run and deal with 90% + humidity and less heat, or do I wait until the evening when there's typically less humidity but the temperatures often stay in 90s up until the time the sun sets?
I usually go with the morning slog. But that produces it's own problems as I try to stop sweating after I'm done. That usually takes a ride to work with the AC turned on full blast and Number One complaining (we've been carpooling to our respective jobs this summer) about how I'm freezing his skinny little butt off.
But at least my morning slog is not complicated very much by a more insidious respiratory threat–smog.
As this NYT article shows, don't expect too many world record performances in the distance events of the track and field competition at this year's Summer Games in Beijing. The air quality there is horrendously bad; so bad, in fact, that US athletes are training in a more relatively smog-free city in the same time zone and not making an appearance in Beijing until the last minute.
Haile Gebrselassie of Ethiopia, the current world record-holder in the marathon and probably the most versatile distance runner of all time, has opted out of this year's marathon and will compete only in the 10K instead out of health concerns related to his asthma.
I remember walking around in Washington DC and marveling at how large the EPA building was and thinking, geez, what a bloated bureaucracy that one must be.
I have an idea: We could reduce our EPA by 50% and send China the other half–sounds like they could use one.
But enough of that–it's time for the morning slog. See ya down the road, Homer.