Nick Saban Is No Atheist, A'ight?
Yet, for some reason many people think he is. Just Google the phrase "Is Nick Saban an atheist?" and see what site you get. Go ahead, try it.
I first noticed this back around the time he was hired, and even today I get about 15-20 people a month who come to Ocular Fusion that way. Wierd. I mean all you have to do is go to Nick's MySpace page and you can plainly see that he is "Christian–other."
I take that to mean that he shows up to some kind of church every now and then, but that the "other" refers to those Sundays when he's worshiping at The Altar of Previous Game Film Footage.
Of course, there are some who probably think he's the devil himself. You know, "Nick Satan:"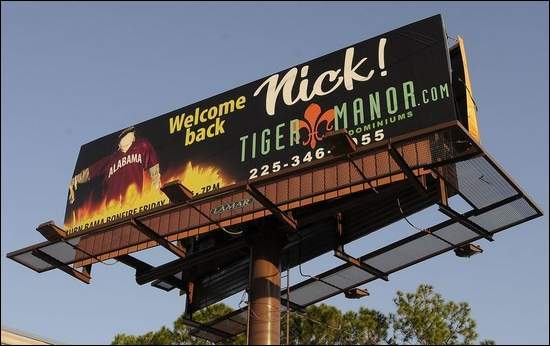 Nothing like a good ol' fashion effigy-burning on a crisp, Deep South fall night.
On the field, look for Bama to prevail, but we won't win going away like Georgia and Florida did. We'll gut it out with smashmouth D and an ugly, but efficient-enough mix of run/pass, per usual.
Either that or Nick Satan will consume the Tigers with fire from his fingertips, or something like that.
Reauxll Tide, Reauxll.
UPDATE: Here's a nice article from Birmingham News writer Kevin Scarbinsky detailing the reception awaiting Saban, and also this one from Ian Rapoport on game security.
BTW, I learned this from the Scarbinsky piece: Saban is Catholic.