Blogging–The Wonder Years, Chapter I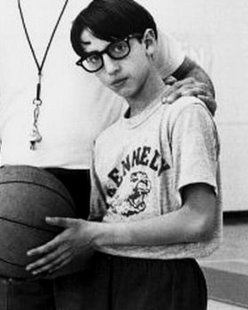 Although I started Ocular Fusion in October, 2005, it turns out that my blogging roots go back quite a ways–the fall of 1974 to be precise. That was when Ms. Fine, my 7th grade teacher at Burnt Chimney Elementary School in Wirtz, Virginia, gave us the assignment of keeping a journal. I suppose like all good teachers she wanted us to learn to write well by writing often. Also, I'm sure that she had learned in teacher school that it was good for young people to "explore and express their feelings." Of course, maybe she was just plain nosey too.
Recently, an amazing archeological discovery was made right here in humble little Huntsville, Alabama. While rummaging through my closet, I unearthed a small blue tablet which, although quite ancient and barely readable, turned out to be the long-lost, secret writings of that Gnostic nerd of Ms. Fines's 7th grade class, Mike the Eyeguy. No doubt, these writings will soon take their rightful place alongside other significant and earth shattering Gnostic texts such as the Gospel of Judas in your local Barnes and Noble. But for my dozen or so loyal and faithful readers, in the coming days and weeks I will offer you some sneak previews via my ongoing series, Blogging–The Wonder Years. So, without further adieu, here is the first excerpt:
September 2, 1974
It's hard to believe it's been 6 years since I stumbled onto the bus wide-eyed and excited, but it sure has. I'm really looking forward to next year, because in my opinion when you start junior high and high school, that's when you REALLY find yourself and what you're going to be after you get out. I really have no special plans, so I'm just dying to know!

I think I've grown up a lot in the past 6 years. I used to get upset every time I got a question or two wrong, but now I realize that school is not the most important thing in the world. I can recall some experiences that I'm really ashamed of, but now that's all in the past and I hope I can cope with the new challenges that come up in my last 6 years of public school.
Yeah, 7th grade is such a critical passage of life–good thing I was wide awake for that one. Little did I know that the "shame" was just getting started. All in all, though, this is a fairly boring and nonscandalous passage, not unlike the navel-gazing ponderings seen on many blogs today. But it gets better. Stay tuned for the next installment when I write my first known rant and take on a critical issue of the 1970s–guys with long hair.
Oh, and by the way, I still get upset when I get a question or two wrong.