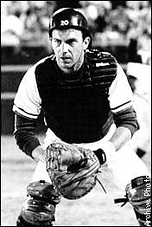 It's not exactly amoeba to man, but as you can see, there's been a little evolution going on around here nonetheless. Behold, Ocular Fusion 3.0!
Thanks to Greg Kendall-Ball (known in Church of Christ blogging circles as the "Blogfather") for lending me a hand and lifting me up from the primordial goo that was WordPress 2.0. The quantum leap forward to 2.8.4 feels downright bipedal. Now if I can just get my cranium to expand a few more centimeters, I should be good to go.
The new WordPress theme is "Deep Silent," (very apropos considering how quiet I've been the last few months), and the "old timey" eye exam header is from The Ophthalmoscope And How To Use It (1st Ed., 1906) by the eminent ophthalmologist James Thorington, A.M., M.D., Professor of Diseases of the Eye, Philadelphia Polyclinic and College for Graduates in Medicine. With a mouthful like that, you know he had to be good.
I like that old book sitting on my desk because it reminds me of something I've always fantasized about yelling while busting open the door to the exam room: "I have an ophthalmoscope, and I know how to use it!" Believe it or not, some of my patients would actually like an entrance like that. Others would probably keel over from a heart attack, so I haven't tried it yet.
As to what shape the blog will take from here, I have some ideas, but I'm not entirely sure. It's like Crash Davis told the petrified batter after rookie pitching sensation Ebby  Calvin "Nuke" LaLoosh beaned the mascot in Bull Durham:
"I really don't know where the next one's going."