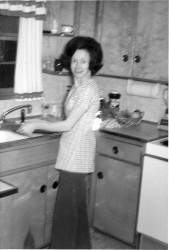 If you want to know what the inside of my mother's 1959 brick rancher looked like, all you have to do is take time out on a typical Sunday night and ogle Betty Draper's well-endowed kitchen.
The first time I saw it on an episode of AMC's hit series Mad Men, its authenticity took my breath away. Of course, Betty's is much bigger than Mom's; Don Draper is a rakish, well compensated creative director for Madison Avenue ad agency Sterling Cooper, after all, not a balding, low-on-the-totem-pole postal clerk at the South Roanoke Substation like my Dad was. But many of the details are the same: knotty pine cabinets with wrought iron hardware, laminate counter tops with shiny metal edging, dated wallpaper (flowers and stripes) and the utter and complete absence of an automatic dishwasher.
I took in all this Camelot-era kitchen kitsch as I stood in Mom's house after she died in April and realized that unless I could find a buyer who dug a Mad Men vibe and wanted to go full-bore retro, that we heirs were basically screwed. Strike one was the kitchen. Strike two, the absence of central heating and air. Strike three was the electrical wiring. It was designed to handle the 1960s basics such as a few space-age pole lamps, a Stack-o-Matic hi-fi or two and maybe a Motorola console TV, but was woefully inadequate for 21st century wattage demands.
We first noticed this in the 1970s with the addition of the three window air conditioning units and the advent of hand-held blow dryers. With the lights turned on and AC going full blast, it was practically impossible to dry your hair, get dressed and make your morning toast without tripping the main circuit breaker and plunging the entire household into darkness. We learned to ration the juice, divvying out a little here, a little there, turning out the lights and appliances in one part of the house to enable the normal activities of daily living in another.
And that's the way it stayed until Mom died. Despite the fact that an electrical engineer friend of ours told her in the early 1980s that she needed a new fuse box and that it would be a relatively cheap fix, Mom chose her landscaping, flowers, several new coats of exterior paint and an enormous, concrete-reinforced, deer-proof chain-link fence which can be seen from outer space over interior updates that would have enhanced the value of the house. Can't judge a book by its cover, you say? Try telling her that.
So to unload a "three strikes" house like that "as is," I turned to the services of a local auctioneer. I vetted him as best I could and finally decided that in a profoundly depressed housing market like the one I was dealing with, I would probably do just as well selling it on the auction block and have it over and done with. That, and I wouldn't have to deal with pesky realtors and picky potential buyers whining about the lack of granite counter tops.
The morning of the auction dawned, and an army of workers descended on the old home place. Soon, plain brown Ford sedans carrying bearded Anabaptist men and their bonnet-ed wives and Good Ol' Boy pickup trucks outfitted with gun racks and festooned with "McCain/Palin 2008" and "Drill Baby, Drill" bumper stickers lined the road in front of the house and filled the pasture across the road. It looked like it was going to be a good turnout despite the fact, as we later learned, that we were competing with another much larger estate sale just 5 miles down the road.
Now auctions these days are decidedly high-tech affairs. The auctioneer and his employees had prepped the place well the previous week, pre-positioning several computers and printers in the family room, garage and even outside within sight of the auctioneer so that he could quickly communicate the winning bid to a clerk who would then enter the data and print off  the item and buyer's name.
I'll admit that I was more than a little nervous, and when I asked our man the day before if he thought everything would sell, he went into hand-holding overdrive. "Don't worry," he said in his best Southwest Virginia sooth, "we've done this many times before and know exactly what we're doing. Everything will be just fine. And besides, when they start in on that fried chicken our ladies will be selling, they'll want to hang around and buy everything, right down to the last cardboard box."
Ah yes, the food, served up courtesy of the lovely and sweet ladies of Mt. Moriah Primitive Baptist African Methodist Episcopal Church (PBAMEC for short). They apparently followed the auctioneer around to the various sales cooking for the crowd as a fund raiser. It wasn't long before the PBAMEC ladies covered two tables in the garage with enough deep fryers, crock pots, George Foreman grills and Mr. Coffees to cook for an aircraft carrier crew. There were so many extension cords crisscrossing the cement floor that potential buyers had to lift their feet high and tiptoe over them, as if they were walking barefoot through tall, wet grass.
At approximately 9:00 AM EDST on August 8th, 2009, just as the auction was about to begin and eager customers queued up to register for their numbers and buy their sausage biscuits and coffee, at about the same moment that my optimism was starting to rise and my worries subside, all those kitchen appliances, plus the computers and printers, came online. And just as quickly, there was a loud, ominous hum atop the power pole at the corner of the driveway, followed by flickering lights and fading computer screens. Finally, a loud CLICK!, and it all went dead.
"Oh my," the auctioneer's wife exclaimed as she watched her last customer's registration data go Poof! before her very eyes. The auctioneer came running over, the whites of his sclerae reflecting brightly in the mid-morning sun. "What the…" he started to exclaim, but before he could finish, I held up my hand and stopped him short.
"There are so many things hooked up at once, we've tripped the main circuit breaker," I said. "Don't worry, I've done this many times before and know exactly what I'm doing. Everything will be just fine."
I grabbed one of his employees by the arm and said, "Follow me." We started toward the basement but I stopped and picked out a flashlight from one of the kitchen drawers first. "I'm going to show you where the main circuit breaker is," I instructed as we sprinted down the stairs. "That way, if it happens again, you'll know what to do. Come to think of it, after we get it back on, you might want to stand at the top of the stairs, just in case."
As we came to the fuse box and began to scan for the main breaker, I became aware of a presence behind us–we were not alone.  I slowly turned my head and glanced over my right shoulder. A small crowd had followed us down the stairs and was now gathered at the doorway to the laundry room, staring wide-eyed at all the commotion. I turned back toward the box and tried to ignore the rubberneckers as best I could, located the main breaker, and pushed.
This time, there was a loud POP! accompanied by a shower of sparks that arced and shot forth from the box like Fourth of July fireworks. "Ooh, that's not good," the worker whispered a bit too out loud.  "Shhhh," I admonished, painfully aware that any potential buyers witnessing this high drama were no doubt adjusting their opening bids downward as we spoke.
Thankfully, the electricity kicked back on anyway, short circuits notwithstanding. "A'ight, folks," I grinned nervously, "move along, nothing more to see here."
By the time we got back upstairs, the auction staff had spread the extension cords around and hooked them up to several different outlets throughout the house in order to reduce the load on any particular circuit.  I turned off the bedroom window AC units and all the lights upstairs, and we were good to go.
Despite a slow start, the bidding for the house finally began to pick up steam. The auctioneer knew he had several serious customers in the audience, so he waited patiently and gently coaxed them through their opening bid jitters and finally got the ball rolling. It seemed to be coming down to two bidders when out of the corner of my eye I saw another man lift his finger and jump into the fray.
It was my Uncle G., Dad's brother. I was glad that he was there, but I had no idea that he was planning to bid on the house, and as I learned later, neither did he. But even though he's a high school dropout, my uncle possesses a preternatural business sense, and he and my aunt became successful entrepreneurs, timing perfectly the opening of their auto parts business in the 1970s just before Smith Mountain Lake hit the boom years. If I had to guess, he's probably a millionaire once or twice over, and he didn't get that way by passing over a good deal when he saw one.
The bidding stalled at a mere thousand dollars below our set reserve with my Uncle G. the last man standing. The auctioneer looked at me and asked, "Do we have a sale on this house today?" I glanced at my sister who was sitting under the large, shaded canopy, tears streaming down her face, and asked her the same question with my eyes. She nodded yes, and I looked at the auctioneer and replied, "We do."
Afterward, Uncle G. was speechless–rare for him–and he looked a little pale and clammy. His heart isn't in the best of shape anymore, and I began running through my mind the ABCs of CPR, just in case.
"I had no idea you were going to do this," I said.
"Neither did I," he replied.
But I was so glad he had. I felt a great weight lifted from my shoulders, not only from the relief of having it sold, but from the assurance that the house would be staying in the family after all.
"Come inside," I said as I put my arm around his shoulders, "let me show you around this wonderful house you just bought."  We wandered from room to room, through webs of memories so thick we had to brush them aside with our hands. Eventually, we walked down the basement stairs.
"I haven't been down in this basement in 25 years," he said, probably wishing he had prior to bidding on a house essentially unseen. "It's going to need a little work–like a professional cleaning to get rid of the mildew."
"True," I replied, "and probably a little electrical repair, too. Here, let me show you the main circuit breaker on the fuse box. I think you're going to need to know where that is."