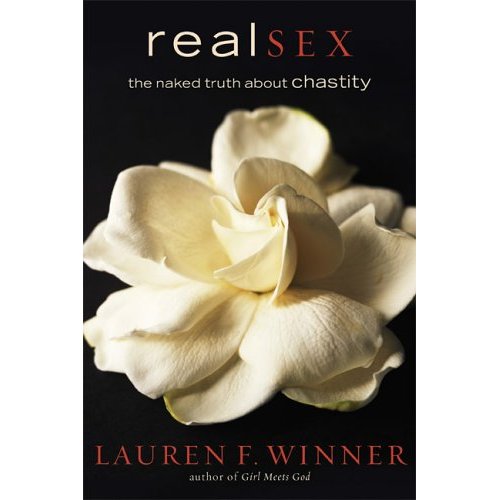 Now that I have your attention, I wish to put in a good word for a book that I'm currently reading (consuming might be the better verb), Real Sex:The Naked Truth About Chastity by Lauren Winner.
Now I know what you're thinking: Mike, shouldn't you know what "real sex" is by now?
Well, yes and no. Yes, I know some things about what sex is, should be, and can be, but no, it doesn't mean I know everything I should. Nor does it mean that that I'm very effective at teaching my sons about sex and how to faithfully answer God's call to chastity in a postmodern, sex-saturated society. In fact, I'm very keen to add some new material to go along with my usual opening line: "So…uh, hmmm, er, duh….any questions?"
Ms. Winner is a Jewish convert to Christianity (and by her own admission, a much slower convert to chastity) who brings a fresh voice and a twentysomething perspective to the discussion. I'm glad for that, because bottom line, we're going to have to get beyond the worn and weary "True Love Waits" pledge cards and "Don't do it because God said so!" scare tactics. Instead, Winner calls for a fully-orbed, practical sexual ethic that will resonate in a culture where sex has been severed from its intended context–the warp and woof of everyday domestic life–and has instead become the nation's favorite spectator sport.
Here's a sample:
It wasn't just the liberal, supposedy liberating, books that left me cold. I didn't find many of the more conservative bromides all that persuasive either–the easy proof-texting that purports to draw a coherent sexual ethic from a few verses of Paul. To be sure, scripture has plenty to teach us about how to rightly order our sexual lives, but, as the church, we need to ask whether the starting point for a scriptural witness on sex is the isolated quotation of "thou shalt not," or whether a scriptural ethic of sex begins with the totality of the Bible, the narrative of God's redeeming love and humanity's attempt to reflect through its institutions and practices. If our aim is to construct a rule book, perhaps the cut-and-paste approach to scripture is adequate: as the bumper sticker goes, Jesus (or in this case, Paul) said it, I do it. But if we see scripture not merely as a code of behavior but as a map of God's reality, and if we take seriously the pastoral task of helping unmarried Christians live chastely, the church needs not merely recite decontextualized Bible verses, but to ground our ethic in the faithful living of the fulness of the gospel.
On ordinary, "hum-drum" sex in marriage:
As theologian David McCarthy argues in his provocative book Sex and Love in the Home, a Christian ethics of sex, love, and marriage needs to reconceive sex and love as practices that exist ideally only within the basic prosaic rhythms of house and home: candlelight, long-stemmed roses, and lingerie can't sustain love, but domestic economies can. This is not, at root, an argument based on realism or expediency. Rather, the point is that it is only through household practices that Christians come to embody the Christian virtues of mutual care, forgiveness, generosity, community, interdependence, and reconciliation. Our humanity cannot be separated from the moments of joy, anger, friendship, sadness, attention, confusion, tedium, and wonder that unfold over time and in specific places. Human intimacy is hammered out on an anvil made of nothing more, in McCarthy's phrase, than the "day-to-day ebb and flow of common endeavors, joys, and struggles of love in the home." Love, sex, and marriage, to be theological, must drink from the very same wells. Love, sex, and marriage, to partake in their transcendent mission of revelaing God's grace, must embrace life's decidedly untranscendent daily goings-on. In a Christian landscape, what's important about sex is nurtured when we allow sex to be ordinary.
In other words, Winner believes that "macaroni and cheese" sex is the genuine article–not the button-popping, blouse-ripping, mind-blowing, room-wrecking counterfeit depicted on television and in the movies.
Winner does a masterful job of handling both scripture and historical witness as she sensibly and wittily makes the case for traditional Christian sexuality. The result is a rich and robust exposition of a Chrisitian sexual ethic that attends not only to the necessary theology, but also to the the postmodern, psychosocial context that must be grasped in order to navigate today's treacherous sexual waters.
Indeed, Real Sex is a "winner" in more ways than one.