Sometimes Other Teams Are Good Too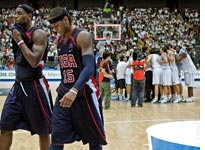 As disappointing as Team USA's loss to Greece was in the semifinals of the World Basketball Championships, it should be noted that in the bronze medal game, the Red, White and Blue thrashed pre-tournament favorite Argentina 96-81.
Slate's Robert Weintraub offers up this and other perspective-lending points in his article "How Soccer Explains the World Basketball Championships." His views are a breath of fresh air amid all the recriminations resulting from this most recent international sports loss and the USA's subpar performance in the most recent soccer World Cup.
Having been an athlete, coach and spectator, I concur with his sentiments. Sometimes the tournament format works against you. At other times it's an unlucky bounce, a stray puff of wind, a referee with blurry (or limited) vision or an "attitude," or just plain "bad luck."
Sometimes (and more often than not) it's simply that other teams are good too.