Sean, That Was a Flippin' "Suweeeet" Shot!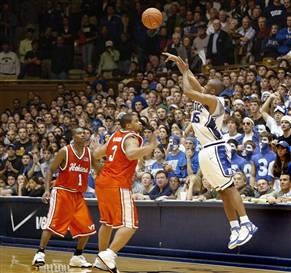 While it may not have the ramifications of Hill to Laettner in 1992, McRoberts to Dockery will still go down in the annals of Duke basketball as a play for the ages.
With 1.6 seconds remaining and down 75-74 in Sunday night's game with Virginia Tech, freshman Josh McRoberts threw a long inbounds pass and connected with senior guard Sean Dockery. Dockery took one dribble past the midcourt line and launched a last-second prayer. Forty feet later, the Cameron Crazies shouted "Amen!" while the despondent Hokies fell to their knees in disbelief. Having lost the ACC Football Championship game the night before to Florida State, Virginia Tech fans felt the fickle wrath of Lady Luck as she thumbed her nose and turned her back on the noble Fighting Gobblers for the second night in a row.
Back on the ranch, Dockery's heroics launched our own mini-pandemonium as Number 3 son and I danced in delight as we played the last-second shot over and over with our digital video recorder (DVR). Then we had a great idea. Number 1 son, who is slowly starting to convert to the Duke Way, was at a friend's house and not watching the game. Enlisting the aid of Number 2 who had been in another room but was aware of the outcome (how could he not have been?), we thought it would be fun to start the recording of the last few moments just as Number 1 was arriving home to fool him into thinking he was watching live action.
Number 2 served as our lookout, so when Number 1 came through the door, the drama began. Number 3 and I put on our best aggravated and somber expressions–our beloved Dukies had just lost a 12-point lead and were on the brink of defeat–"oh the outrage, oh the humanity of it all!" We even groaned when Shelden Williams missed the front end of a one and one, then shrieked when Tech's Coleman Collins tipped in a miss to put them ahead with 1.6 seconds remaining. We laughed and yelled, "now that's a homecourt advantage!" when the scorer mistakenly put 16 seconds on the clock.
But when Dockery's shot rained home, we all stood back and calmly watched Number 1 whoop and holler as he performed an impressive victory dance, and I began to wonder if maybe I had passed on a little Blue Devil blood to my first born after all. After a few seconds of this spectacle, Number 2 dryly asked, "Dad, can we go back to live TV now?" Number 1 looked confused, but a couple of seconds later, he got the gist of the situation and proceeded to chase the three of us around the house in mock anger. Hey, Number 1: You've been punk'd!
We had a little fun at Number 1's expense, but as far as I'm concerned, everyone deserved to see that one live (especially all you Duke-haters out there). Coach K will no doubt let the afterglow linger for a day or so in order for Dockery to receive his due. But there will be a reckoning. Coach K will not suffer lightly the loss of a 12 point lead in the closing minutes to an average conference team, especially with a showdown against #2 ranked Texas coming up this Saturday.
Ah, but for a few moments last night, I thought it was late March instead of early December. The journey down the Road to Indianapolis has begun. What more magical moments lie ahead? We shall see. But for now, hand me the remote control so I can watch Sean's flippin' "suweeeet" shot rain home just a few more times.