Tomorrow, Number One Son, Eyegal and I will head down to Tuscaloosa so that he can tour the University of Alabama campus, one of the schools that he's considering attending next year. Since he's a National Merit Semifinalist he gets the so-called "V.I.P" tour (well, la de da!). It will include a tour of the campus and the new honors dorm, free food and other goodies, meetings with professors and advisors, and even a tete-a-tete with the President of the University, Dr. Robert Witt. That last one was enough to send even me for a haircut the other evening.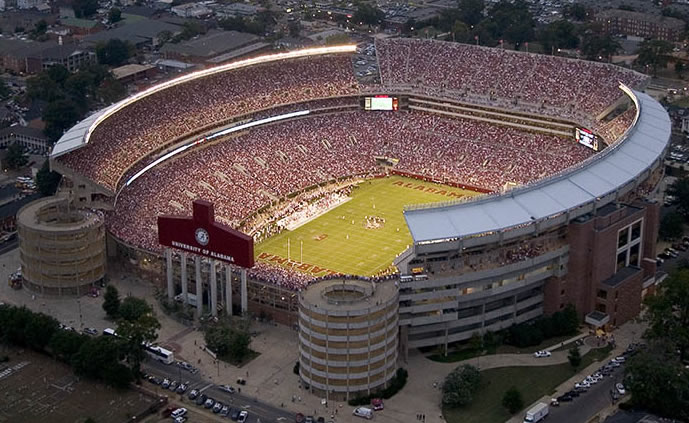 To add to the fun, we'll be there on the Friday of Iron Bowl weekend with Bama hosting long-time archrival Auburn this year. The initial plan called for us to leave Number One in Tuscaloosa for the weekend with some friends so that he could experience the excitement of the Iron Bowl, perhaps watching it on a big-screen TV with a few other unfortunate souls without tickets.
But, low and behold, Number One has apparently scored a ticket to the big game.
Un. believe. able.
No, Harding admissions guy, he didn't receive it from the UA recruiter (no foul this time). This offer came from a good friend and her family here in Huntsville who had an extra season ticket and were kind enough to invite him along.
I'm holding out hope that Bama will find a way to score touchdowns from inside the red zone and award Head Coach Mike Shula with his first win over the visiting Tigers. But regardless of how it goes, it'll be a special game for all of us knowing that one of our crew will be on the premises of Bryant-Denny Stadium witnessing the action live.
As for his college choice, perhaps this weekend will finally get all this Bama obsession out of his system once and for all (been there, done that) and pave the way for him to choose Harding.
Or not.