True story:
In the fall of 1984, I was a skinny, malnourished first-year graduate student in clinical psychology at Virginia Tech in Blacksburg, Virginia. This was just shortly before I realized that I wasn't cut out to be a psychotherapist and needed to work with something I could actually fix–like eyeballs–but I digress.
Moving back to Blacksburg had reignited some childhood allergies which in turn had set off a touch of asthma, and that was the reason that I was in Ellett's Drugstore on Main Street looking for drugs–any and all, please–that would give me a few moments of relief. After scooping up and paying for enough OTC medications to anesthetize a herd of charging elephants, I started out the door.
As I neared the entrance, I noticed a large shadow enveloping me, much like that produced by a 747 jumbo jet passing overhead as it's silhouetted against the sun. Anxious to get back to my apartment and start popping some pills, I ignored the danger sign and pressed forward.
But not for long. I soon collided with what I first thought was the sturdy and immovable trunk of a California Redwood. I stumbled backward a few steps, dropping the drugs, and gazed upward, slowly focusing my watery, red eyes on the mammoth hunk of man blocking the door. The "tree" was 6'4," weighed about 260 lbs and was wearing a Virginia Tech letter jacket.
"Sorry man, you awright?"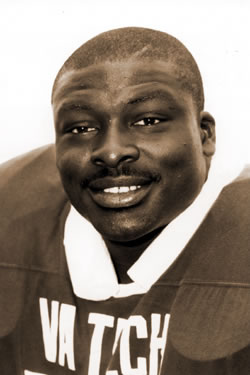 At that moment, Hokies' defensive lineman Bruce Smith, who was renowned for dishing out loads of malice on opposing offensive players, had the look of someone who had accidentally stepped on a newborn kitten. I apologized too and told him that I should have looked where I was going (very true). He slapped me on the back, nearly knocking me over again, smiled, and went on his way. As I headed back to my apartment, my allergies woes receded into the background of my consciousness as I contemplated my collision with football greatness. I was stunned, but also a little thrilled.
After tackling me, Bruce (we're on a first-name basis now) went on to win the Outland Trophy as the nation's best collegiate lineman, was named a consensus All-American and was the 1985 #1 NFL draft pick of the Buffalo Bills. He remained with the hard-luck Bills the majority of his career, playing in four consecutive Super Bowls at one point, but failing to win the coveted ring.
But he was named to eleven Pro Bowl teams, and after signing with the Washington Redskins as a free agent in 1999, he went on to break Reggie White's all-time NFL sack record with 200 near the end of the 2003 season. He was recently part of a distinguished class named to the College Football Hall of Fame and will be eligible for the Pro Football Hall of Fame in 2009. It would seem to me that he's probably a lock.
My encounter with Bruce Smith and sports greatness was my closest one since 1970, the time that I stayed in the same Los Angeles hotel as the Cincinnati Reds and rode the elevator with Hall of Fame first baseman Tony Perez. But I do have a bone to pick with the sports archivists at Virginia Tech. If you look at the record book, they have Bruce down for 46 career sacks.
I beg to differ–make that 47.