Thoughts on Lessons and Carols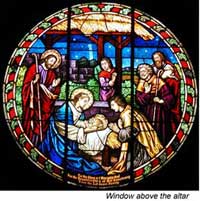 Several of us Church of Christ folks snuck over to the Episcopal Church of the Nativity in Huntsville last night for A Festival Service of Nine Lessons and Carols. The Church of the Nativity is one of the oldest churches in Huntsville and has an interesting piece of history attached to it. During the Civil War, the Union Army occupied Huntsville and began commandeering area churches to use as stables for their horses. One Union officer was sent with a detail to Church of the Nativity for that purpose. However, when he saw the words "Reverence My Sanctuary" (still seen today) above the front entrance, he had second thoughts and gave orders to his troops that the church was to remain untouched.
Lessons and Carols is an Anglican service which was originally conducted at Kings College, Cambridge Univeristy on Christmas Eve in 1918 and has since been adapted for use by other churches around the world. The format follows the story of the fall of man, through the Old Testament with its many promises of Messiah and on to the birth of Jesus using nine scripture readings and various hymns and carols. The King's College service is still broadcast annually on Christmas Eve by BBC Radio and is often carried by local NPR affiliates.
For my regular readers, it comes as no surprise that I'm a "smells and bells" kind of guy. I'm wired to respond better to the call to worship God with all my senses rather than simply using my left brain to digest a 45 minute lecture, uh, I mean sermon. I also like the quiet, gentle pace of liturgical worship–I don't feel like my senses have been assaulted with a barrage of loud praise songs featuring the words "I, me and just" and PowerPoint slides filled with bulleted "main points to remember."
Rather, I sense God's call to "be still" and to know him, along with a much-needed break from the tyranny of the modern. I sense the power of letting scripture and song speak for themselves without the need for commentary or interpretation. I am healed by hearing what God has done and is doing rather than the constant reminder of "all the things we're not doing" (note to pulpit ministers: believe it or not, most of us know we're sinners who are constantly falling short. We are in dire need of encouragement and Good News).
I do sometimes feel like an interloper when I enter a liturgical church. It's usually a little dark when you go inside and sometimes it takes a few moments for your eyes to adapt (I'll spare you the physiological explanation). One time when I was entering an Episcopal church I didn't see the brass infant baptismal font standing in my way and I ran into it, producing a loud clang which I desperately tried to still by grabbing it like a drummer does a cymbal. The folks who had already gathered for contemplation and prayer prior to the service were used to bells sounding off, but not at that particular moment. With all eyes turned on me, I could only offer a sheepish wave and a softly-mouthed "Sorry!" I felt like I needed to tell them I was from the Church of Christ and that I wasn't used to baptismal fonts and that I promise it will never happen again. I was afraid a vestment-clad bouncer was going to appear and toss my little Anabaptist keister out on the sidewalk. But they didn't seem too concerned. I suppose they're used to a steady stream of folks sneeking in for a liturgical fix. No one stood up and said, "Hey, that guy's Church of Christ. Throw him out of here!"
Last night there were several of us Restorationists taking up a couple of pews. A family soon came in and sat down behind us. A moment later, a young girl exclaimed, "Hey, what happened to our pew?" She was quickly shushed by her father. Oops, sorry about that! Don't worry–come next Sunday you can have your old pew back for Christmas Day service.
Aside from the songs sung in Latin (once a Latin geek, always a Latin geek), my favorite from last evening was When God's Time Had Ripened (music by Alfred V. Fedak, lyrics by Carl P. Daw, Jr.):
When God's time had ripened, Mary's womb bore fruit,
Scion of the Godhead, sprung from Jesse's root:
So the True Vine branches from the lily's stem,
The Rose without blemish blooms in Bethlehem.

More than mind can fathom, limit or untwine,
This mysterious yoking, human and divine,
But what reason fetters faith at length unlocks,
And wise hearts discover truth in paradox.

As the bread of heaven, that we might be fed,
Chose a manger cradle in the House of Bread,
So has Life Eternal mingled in the womb
With our mortal nature to confound the tomb.

For this swaddled infant in a humble place
Holds our hope of glory and our means of grace;
In the Love enfleshed here dawns the world's rebirth,
Promise of salvation, pledge of peace on earth.
The second stanza especially speaks to me. As a tired, middle-aged, world-weary, left-brained rationalist, I've finally waved the white flag and surrendered to the powerful reality of paradox. In fact, I'm finding the letting go of "the need to have all the answers and figure everything out" to be a welcomed relief. The letting go and giving in feels right and good. I want to accept the "mysterious yoking" by faith and allow the "hope of glory" and the "promise of salvation" to fill the empty and dark places of my soul.
So this Christmas, along with the Our Father, I pray:
Dear God, calm my fretting self and settle my busy, troubled, over-reasoning mind. Allow the "mysterious yoking" to wash over me like a soothing bath which cleanses and heals the nicks and cuts of my soul. Give me a "wise heart," so that I too can "discover truth in paradox." Amen.