Happy 50th Anniversary Mom and Dad!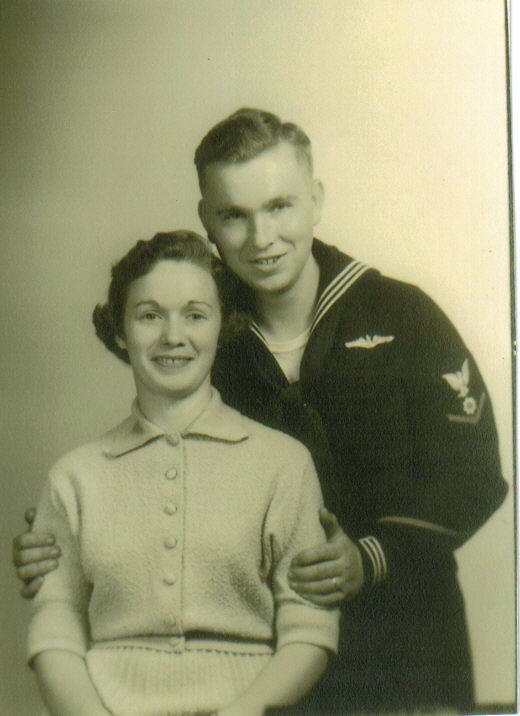 If my father had lived to see tomorrow, he would have celebrated his 50th wedding anniversary with my mother. His untimely death in 1980 left my mother a fairly young widow, but tomorrow we will celebrate nonetheless–for love transcends all boundaries of time and space, life and death.
My Mom and Dad attended the same high school and both graduated in 1951, but they were only casual acquaintances at the time. In those days, my father was tagged with the ironic nickname "Bonecrusher," standing as he did at 4'11" his senior year (he grew 7 inches his first year out of school). My mom was dating a "college boy" at the time, so I think it's fair to say that she might have overlooked poor ol' "Bonecrusher!"
About four years after graduation, Mom was working in the toy department in the basement of the Woolworths department store in downtown Roanoke, Virginia. One day she looked up to see a grinning, young sailor descending the stairs. At first he only smiled and said nothing, feigning interest in the Slinkies, Hula Hoops and other toys which Mom had neatly arranged, all in their proper order.
But day after day, he kept coming back. It didn't take Mom long to figure out that he was interested in more than Tinkertoys and Lincoln Logs. Soon the two of them were chatting away, and not long after that, Dad asked her out on a date.
That date nearly turned disastrous as Mom apparently got cold feet and asked my grandmother to help her hide when Dad arrived. My memories of my maternal grandmother are dim, but I do remember that she was not a woman you wanted to mess with. She was a Great Depression-hardened, mattock-wielding farm woman who could wring a chicken's neck with one hand and chop off the head of a rattlesnake with the other.
I don't recall exactly how that scene turned out, but I guess Mom must have sheepishly appeared at some point and gotten in the car. My grandmother liked Dad a lot after that (maybe she admired his bravery in the face of clear and present danger). Years later, shortly before Grandmother's death from cancer, Dad baptized her into Christ, probably struggling a bit for a "full immersion" seeing as it took place in the bathtub of her home.
My parents were married on December 24th, 1955. For the first year or so, they remained largely apart as Dad completed his service aboard the submarine U.S.S. Cubera while mom remained in Southwest Virginia. After Dad's discharge, he managed to get a job at the post office, and soon my older sister was born in late 1957. My parents then built a cute little brick ranch house on land just down the road from and within sight of where Mom grew up.
I came along in 1961. As I look now at the panoply of pictures and reels of home movies which Dad shot with his Bell & Howell camera, they are for me a memorial of the love and hope which my parents poured over my sister and me during those years. Service minded and determined to make a difference, my parents were actively involved with church and PTA and worked hard to take care of my sister and me and shelter us from the troubles of the turbulent 1960s. In 1971, they received a late "surprise package" in the form of my younger sister and blushed a little when they were honored at their 20th high school reunion for having the "youngest child."
G.K. Chesterton once remarked:
"There is nothing more extraordinary than an ordinary man, an ordinary woman and their ordinary children."
If true, then that's one accolade my parents would have both been proud to claim!
In her wildest nightmares, Mom would not have dreamed of being a widow at the age of 47. But she has endured, along the way surviving her own health struggles and brushes with death. In ways too numerous to mention, having her with us today is our own Christmas miracle.
So, this Christmas Eve, we will remember an ordinary man and an ordinary woman who lived with extraordinary love and energy during their time together. In many ways, they have remained yoked together, connected by the small army of children and grandchildren who will gather in that same cute little brick ranch house just down the hill from where Mom grew up. We will feel my father's absence, as well as the hole in our hearts left by my sister's son Andrew, who passed from this life seven Christmases ago. We will remember them both and we will hope–and celebrate.
And when Mom pictures in her mind's eye Dad descending those steps in the Woolworths those many years ago, I'm pretty sure she still blushes a bit and smiles. And I bet her heart still skips a beat or two, whenever she remembers her sailor boy in blue.