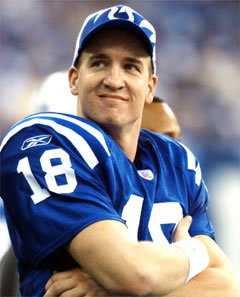 When Indy's Joseph Addai scored the winning touchdown with one minute left in last night's NFC title game, Colt's quarterback Peyton Manning fretted that too much time was left on the clock for New England's Tom Brady to once again work his magic.
Manning then returned to the bench, bowed his head, and prayed.
With 16 seconds left and the Patriots threatening, Indy cornerback Marlin Jackson intercepted a Brady pass at the Colts' 35 yard line. Game over. Prayer answered.
Or was it?
After the game, Manning opined on the intersection of sport and faith:
"I don't know if you're supposed to pray for things like that."
I know how you feel, Peyton. Several times a day, I pause to pray about something and think, I don't know if you're supposed to pray about _______. Sometimes, I proceed and pray, sometimes I don't.
So, what's in your blank?
As for Peyton, I'm glad that big goofy, lovable football nerd is finally getting his chance. Go Colts.