Which is Better, Then or Now?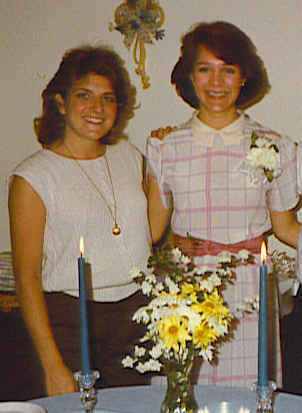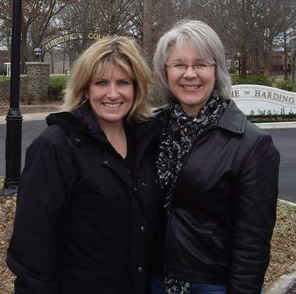 We optometrists are notorious for asking such mind-torturing questions. Perhaps some of you have figured out by now that what we're really aiming for, after all your hand wringing, nervous sweat and labored breathing, is a false dilemma. The words we want to hear is that both options are "the same," for equality marks the end point of the refraction and the beginning (hopefully) of 20/20 vision.
I asked myself this same question as I looked back upon a recent trip to our alma mater (Hail!) Harding University in Searcy, Arkansas. I often feel that I'm caught up in a time-warp when I travel there, so thick are the memories and so slow the pace of change in that sleepy college town "near the foothills of the Ozarks." This time, all the more, as we were blessed with the company of Eyegal's former college roommate Jenny V (on the left in the pictures above), now a resident of Eyegal's hometown of St. Louis.
The two of them were as thick as thieves the entire weekend, staying up to ungodly hours catching up on current events and reminiscing about the good times "back in the day." Number One Son noticed their close relationship and marveled at how roommates 20-plus years later can pick up where they left off and carry on as if no time had passed, as if it was, by virtue of a wrinkle in time and space, 1984 again.
"I forget sometimes that you guys had lives before we all came along," Number One was heard to remark.
Yes. We did indeed.
But of course, it's not really 1984, and we've all traveled a few miles since that picture of those two beautiful, bright-eyed Harding coeds was taken. Much has happened–joys and sorrows galore–and many of those pat answers that we learned in college have been tested by fire and been found wanting.
But the weekend together stirred hope and further forged bonds of friendship that were already as strong as steel. And I believe I may have even discovered the answer to that pesky question.
Which is better, then or now? Look to the left, and you can see that then was very, very good. But look to the right. There you'll see that, like fine wine, now is even better.