"Come now, let us reason together," says the Lord. "Though your sins are like scarlet, they shall be white as snow; though they are as red as crimson, they shall be like wool."

–Isaiah 1:18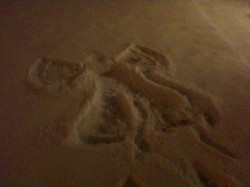 I am sending out this dispatch from Ground Zero of The End of Days, Huntsville, Alabama.
Although I have yet to whip out the measuring stick, there appears to be about 8 inches of snow on my patio. To top it all, tonight Auburn plays for the national championship in college football. It appears the Mayans were almost right, just off by a year.
We are warm and toasty. There is still electricity, so we have coffee. We have not yet been forced to burn furniture for heat. The cupboard is filled with ample food stores of the basic staples. If we run out, I can walk 0.3 miles through the blowing drifts and whiteout conditions to the nearest supermarket.
Yesterday, I made a Target run to see if what they say is true–that panicked Southerners empty the store shelves of milk and bread at the mere mention of a snowflake. It is no myth. The shelves were bare. The beer was a little picked over, too. We Southerners have our Priorities.
We had tickets to Broadway Theater League's production of "Legally Blonde" last night at the Von Braun Center. The website said that the "show must go on" but that we could exchange our tickets for a later show if we wanted to stay in and not take the risk of getting caught out in the forthcoming blizzard, that large patch of pulsating blue on the Weather Channel map bearing down upon us
They do not know me very well. I want to get caught out in the snow and lose control. I want to slide.
So off we went, to seek out a little midwinter adventure. Eyegal is a Midwesterner by birth and I hail from the upper South–we would show the locals how it's done.
We enjoyed the show even more than we thought we would. So much movement. So much energy. So much…youth.
At intermission, many of us guys went and looked out the front door to check on the conditions. A very fine white mist was just beginning to fall. I went back to my seat and a mother and her lovely teenage daughter from Decatur were debating whether to leave or stay. She was driving her husband's jeep, and they had even packed a bag with some clothes in case they needed to stay in Huntsville.
Her daughter was loving the show and didn't want to leave. "Just get a room at the Embassy Suites," several of us pleaded with the mother (there is a walkway connecting the hotel with the civic center). But in the end, they got up and left before the start of Act II. The daughter was devastated. It broke my heart, too.
Elle and Paulette resolved their predicaments, dancing and singing their way to happiness, and stole our hearts. Then they released us again and waved, bidding us goodnight. We stood and wished them well in return.
Most of us anyway. I hope they weren't offended by those who jetted out before the curtain call was finished.
By the time we emerged into the night, large, fluffy flakes were falling fast and furious. We crisscrossed the wooly field of white, cushioned crystals, leaving long, individualized lines that looked like jet contrails. We stepped carefully, slower and more upright than usual, vectoring our weight straight down to take advantage of the laws of gravity. Traction–previously an afterthought, now the byword.
There was a buzz of glee and anticipation among the exiting theater patrons. It was as if our own town had been transformed into a magical set, and we were the actors, writing our own script. It was early January, but it was still Christmas morning in our heads.
I traveled most of the way home in 2nd gear with an occasional upshift to 3rd on long, flat stretches. My Audi groaned in delight–snow is its natural habitat. The Quattro four-wheel drive and sophisticated differential make it difficult to slide, but not impossible. You can if you ride her hard enough.
We passed police cruisers with flashing lights and creeping commuters in way over their heads. We drove past a streetlamp on Bailey Cove Drive and found ourselves in Narnia. A lone, red fox started to dart out in the road in front of us, but thought twice. We exchanged glances as we passed. The fox did not speak, but his eyes reflected our thoughts–Can you believe this? He bolted back into the darkness, and we drove on.
We pulled into our driveway and started to go inside, but the pull of this magical night was too hard. Eyegal laid down in the snow, flapping her arms and legs, and a snow angel was born.
We climbed back into the Audi and drove the loop around our neighborhood. I hit the hairpin turns hard, and we slid, cutting half-moon donuts in the freshly laid carpet of snow. I kept steering into the skid until the tires bit and the car straightened.
Eyegal squealed in delight. She was seventeen, and she had snagged a date with the new kid in town, all dark and mysterious. I was one of the "bad boys."
We drove back toward the house, and there was a blinding flash, followed by a booming clap. Thundersnow. Now we had seen (and heard) it all.
I stayed up late watching it fall. Everything was wiped clean. A fresh start. A clean slate.
Like wool.