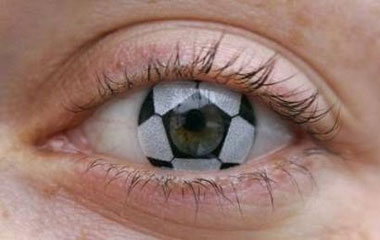 Although you wouldn't know it from the amount of time I've spent recently blogging about my beloved Duke Blue Devils, I actually love soccer as much, if not more, than college hoops. I'm sure you'll be reading some of my thoughts and observations about real football as I follow my sons' soccer teams this spring and also as the FIFA World Cup approaches this summer.
I'm also an unabashed, card-carrying "eyeguy." So imagine my delight when I recently discovered that I could combine two of the great passions in my life and enjoy them simultaneously–sort of like a Reeses Peanut Butter Cup or an Oreo cookie . If the eye is, like the old saying goes, the "window to the soul," then the person in the picture above is truly mad to the bone about what soccer's most famous player called, "The Beautiful Game." Ole, Ole, Ole, Ole!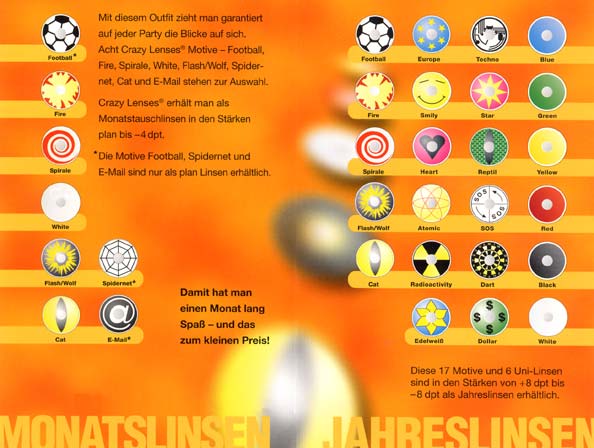 Although Hollywood actors and actresses have used special effect contact lenses for years, many are now available to the general public as well. Wildeyes (Ciba Vision), Evileyes and Crazy Lenses (CooperVision) all offer up a colorful palette of alternative ocular personas for every occasion. Up until recently, if you were into NFL football there were even some Crazy Lenses for you (but alas, like Peyton Manning's ability to win the Big Game, they are now nowhere to be found).
Of course, please keep in mind that, although special effect contact lenses are "fun," they are also medical devices and should be properly prescribed and monitored by an eye care professional.
WARNING: FAILURE TO DO SO MAY RESULT IN NASTY, PUS-FILLED CORNEAL ULCERS THE SIZE OF A MOON CRATER, WHICH, NEEDLESS TO SAY (BUT I HAVE TO SAY ANYWAY, OTHERWISE YOU COULD SUE ME), MAY LEAD TO BLINDNESS. EVEN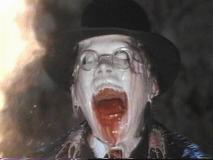 WORSE, YOUR EYES MIGHT MELT AND POP OUT OF THEIR SOCKETS LIKE THAT GESTAPO DUDE'S IN "RAIDERS OF THE LOST ARK" WHEN GOD GOT A LITTLE MIFFED OVER THE ARK OF THE COVENANT BEING STOLEN AND OPENED UP BY A BUNCH OF NAZIS.
There, now that we have that out of the way, let me ask you a question. If you could pick a lens which would bare your true inner soul, what would it be? Feel free to browse and choose from any of the above collections, or be creative and come up with your own special "dream lens."
In other words–what's on your window?