How Mary Nell's Handbell Got Saved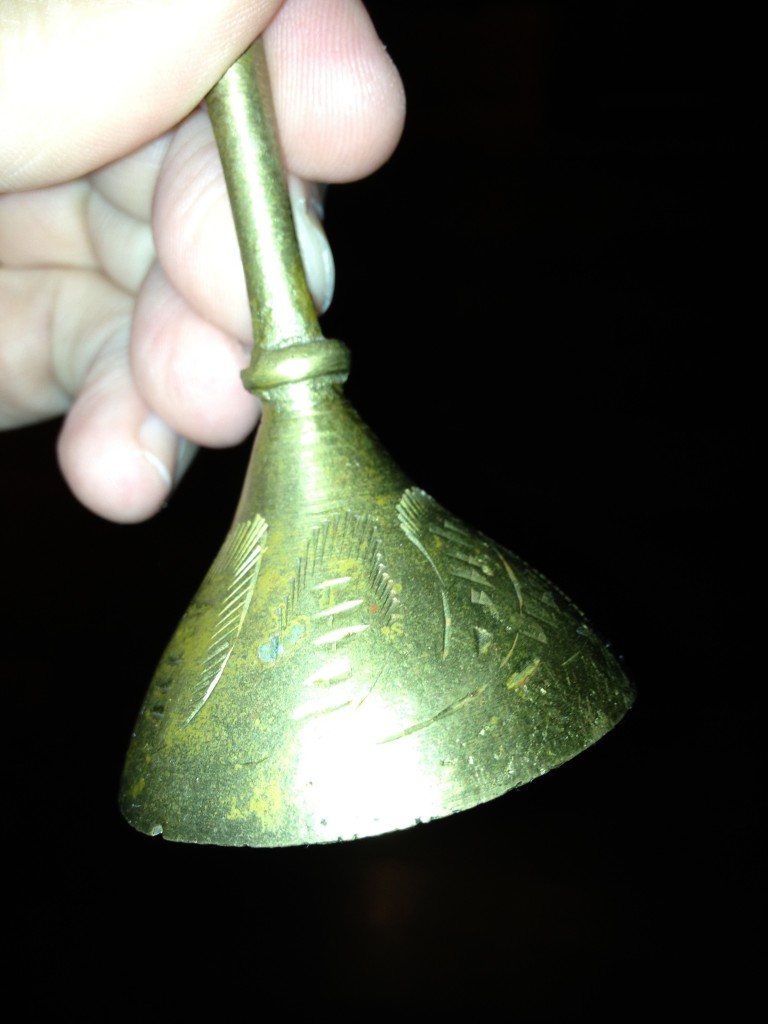 Jesus said to "Love thy neighbor" and "thy enemy." But what do you do when the person who lives next door to you is both?
I guess there aren't any special dispensations for that scenario. You're just supposed to suck it up and go. When it came to Mary Nell, our neighbor from 1995-2011, we tried–and failed–over and over and over.
We first met Mary Nell in August 1995 when we stopped by Corley Drive to check out the 10-year-old brick rancher with the huge backyard that had just gone on the market.
Well, "met" only if you count a dried-up prune of a little old lady glaring at you through window blinds as a "meeting." The boys took to the yard immediately and ran about making a joyful noise, stretching their legs with some all-out sprints.
Mary Nell, whose only son had long since grown up and run, uh, I mean moved away to the other side of the country, was drawn to the window by the racket and stared outside to reconnoiter the little invaders who threatened her peace and quiet, as well as her pristine Southern Living lawn.
We only learned about this afterward when Mary Nell's husband Ken told us that she had complained to him that the boys had started picking some of the green, overly-ripe, apples from the tree that was there back then and throwing them at her window.
Eyegal was shocked–and defensive.
"I'm sorry," she told Ken, "but I find that very hard to believe."
"So do I," Ken smiled. "Don't worry. She's a little crazy."
Of course, Mary Nell used to say the same thing about him.
Mary Nell grew up in Louisiana and was a die-hard LSU fan, but that only explains part of the problem.  She was, by nature, one-part Southern Belle and two-parts rattlesnake. She could be sweet as Scarlett O' Hara at a soiree, or she could strike your heel anytime you strayed over the property line while mowing and threatened one of her precious sprinkler heads.
Every encounter was a coin flip. I think deep down she wanted to be a nice person, but it just wasn't in the cards. You can only do so much chiseling with certain blocks of granite.
I never had much problem out of Ken. Until his death in the summer of 2000 after the onset of early Alzheimer's (or at least that's what we were told), we had a gentleman's agreement that if the border between our respective properties shifted a few inches one way or another post-mow, it just didn't matter.
Heck, I often joked with him that he could come all the way over and mow my entire yard if he liked! We both knew that when you mowed in the middle of an Alabama summer, that sometimes sweat gets in your eyes, and the heat makes you a little delirious, and what you thought was a nice straight line in retrospect looks a little wavy. No big deal.
But after Ken died, whatever ballast he provided to keep Mary Nell from tipping over completely was gone. The Great Corley Drive Border Wars ensued.
Sometimes it was a simple, cutting remark like "Boy, you sure got a little over last time." At others, it was a line of string suspended by those little pennant-shaped warning flags that the utility crews use: "MOW HERE UNDER PENALTY OF DEATH."
The worst came one Sunday evening about seven years ago. I was sweeping the grass off our sidewalk after mowing on a blistering 100-degree day when I looked up and saw her shuffling my way. I sighed and braced myself. I knew what was coming.
She proceeded to lecture me about getting to close to her sprinkler heads–again. I should have just said "Sorry, ma'am," but I didn't. I was hot, tired, and cranky, and I yelled back. I may have even shaken the broom a little. Yelling and brandishing a broom at a little old lady was not one of my finer moments.
She must have sensed that she had bitten off a little bit more than she could chew and quickly retreated back into her house. It wasn't until several years later that I learned how close I had come to getting shot.
Spats notwithstanding, she still needed us from time to time and we did the "Christian thing" and helped out. Neighborhood mischief makers (not our sons, hopefully) would often toss her newspaper onto her roof, and I would fetch the ladder and retrieve it.
One time the battery on Ken's old pickup truck died. Even though she rarely drove it, opting instead for the early 90s Olds with 15,000 miles, this constituted a national emergency in her mind.
I jumped the truck and offered to drive it around to recharge the battery. But she didn't trust me, apparently.
Instead, she hopped in the passenger seat and rode shotgun as we did several laps around the neighborhood. It was a pleasant spring evening, and as we drove along with the windows down, the breeze cooled the flames that had formerly passed between us. She regaled me with stories of her youth and growing up in Louisiana. As I recall, some of them were quite good–and explained a lot.
Early last year, when Mary Nell's mind became so fogged that she could no longer care for herself, it was Eyegal who picked up the slack and became the daughter that she never had.
In those early days when Mary Nell almost died from dehydration and malnutrition, it was Eyegal who stayed with her at the hospital, sometimes well into the night. When she moved to rehab, it was Eyegal who brought her the little things that she needed, like fresh fruit and Dr. Pepper.
Of all the people in the world, Eyegal was the only person Mary Nell trusted to go through her underwear drawer to retrieve her favorite "unmentionables"–and probably the only person in the world who would have been willing to do it.
Eyegal often joked that now that she was about to be confirmed in the Episcopal Church, she had no choice when it came to the "love thy neighbor" and "thy enemy" thing. It wasn't that the Church of Christ didn't teach those tenets too, they just didn't keep bringing them up–week after week after week–like the Episcopalians did.
Eventually, Mary Nell's son made the difficult decision to move his mother to the other side of the country, too. Closing up shop in Huntsville was a daunting task for an only child, and Eyegal became the sister that he never had.
She acted as his arms and legs when he needed something done from afar. She kept him organized and on track. She helped him go through the house and sort, deciding what to throw away (a particular strong suit of hers) and what to keep for the estate sale.
Once as they went through the house, they found $6000 in cash, a handgun, enough ammunition for a Waco-style siege, and two canisters of military-grade tear gas. Her son pocketed the cash, but since he couldn't take weapons on the plane, he gave the gun to a friend and the ammunition and tear gas to a local police precinct.
The officer who received the items was very excited about the tear gas canisters. He immediately opened one and spritzed himself in the face like he was trying on a new cologne at the local Belk. He was disappointed to discover that the quality had degraded from the long years of storage.
Eyegal also found a small, brass handbell. She picked it up and rang it a few times. Mary Nell's son came running, a telling sign if there ever was one.
"Oh, there's a story about that," he said, a knowing smile spreading across his face.
Several years before our arrival on Corley Drive, and before her son had moved away, Mary Nell had taken very ill and was bedridden for a period of time. She used the bell to summon Ken and her son whenever she needed something, which not surprisingly, was quite often. The men became so aggravated with her constant clanging that they eventually snatched the bell and hid it.
Incensed at their callous lack of care, Mary Nell decided to use a different noisemaker. She retrieved the handgun which she kept in the drawer of her bed stand, aimed straight up, and shot a hole through the ceiling.
All those years and rifts, and not once had we even considered the possibility she might have been armed to the teeth.
Eyegal shuddered at the thought, and then laughed. "Here, I think you should have this then."
"Oh, nooooo," the son replied. "It's all yours!"
Although she declined at first, Eyegal eventually had an idea about how the handbell could be put to good use. So she went back and retrieved it.
This past Saturday night at Easter Vigil at the Church of the Nativity in Huntsville, Alabama, immediately following the baptisms, our priest proclaimed loudly three times, "Alleluia, Christ is risen!"
Then all Heaven broke loose. The organist mashed down full throttle, unleashing a blaring fanfare which soared to the highest rafters of the old church. All around us, dozens of handbells clanged out their joyful noise at the Good News of Christ's Resurrection!
I looked over and saw that Eyegal had Mary Nell's brass handbell and was shaking it with all her might.
It was a holy and sacramental moment: that which had once been an instrument of great sin, even terror, had been redeemed and sanctified. Among all the handbells that rang out that night, I do believe that Mary Nell's was the loudest of all.
It will be up to God to save Mary Nell's soul and raise her from the dead. God Itself knows Its work is cut out on that one.
Still, God is able. In the wake of Easter, no tomb is completely sealed.
But at least Eyegal saved the bell.