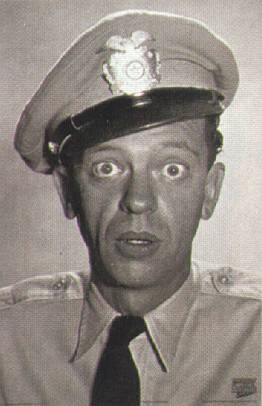 There are many who are weighing in on the passing of Don Knotts, American funnyman whose iconic character of small-town deputy Barney Fife memorialized the earnest efforts of all downtrodden, skinny, bug-eyed low men on the totem pole everywhere who have ever longed to make a difference and be taken seriously.
And of course, many are waxing eloquently, much better than I ever could. Some good tributes can be found here and here. I thought my humble contribution to the cause would be to list some of my favorite "Barneyisms." I just hope I can get through these without having to take a hit off my asthma inhaler:
"Now here at the Rock we have two rules. Memorize them until you can say them in your sleep. Rule number one: obey all rules. Rule number two: no writing on the walls."
"Gun-drawing practice, ten minutes every day. If I ever have to use this baby, I want to teach it to come to papa in a hurry."
"Well, I guess to sum it up, you could say there's three reasons why there's so little crime in Mayberry. There's Andy, and there's me, and (patting his gun) baby makes three."
"Nip it in the bud. You go read any book you want on child discipline and you'll find every one of them is in favor of bud-nipping."
Andy: "Hey Barn, what if they was to ask you if you could sing a cappella, what would you do? Barney: "Why, I'd do it! (snapping fingers in rhythm) "A cappella, a cappella…well, I don't remember all the words."
"If there's anything that upsets me it's having people say I'm sensitive."
(in the context of not making others jealous with his intelligence) "Listen, an IQ can be a mixed blessing sometimes. Some people want it and can't get it. I got it and have to get rid of it. Life's funny that way, you know?"
"I'm a man of the world, Andy. Why, I've been to Raleigh!
These are only scratching the surface. How about chiming in with a few favorite Barneyisms of your own to memorialize a man who has graced us all with the gift of laughter.