This Is Not Your Father's Mercedes Benz
That is, if your father had a Mercedes in the first place. Mine didn't. But he did have a gleaming white 1960 Chevy Impala coupe with fins.
But for millions of Catholics, their Father, Pope Benedict XVI, is currently cruising the streets of Washington DC in a modified Mercedes ML-430 affectionately dubbed the "Popemobile:"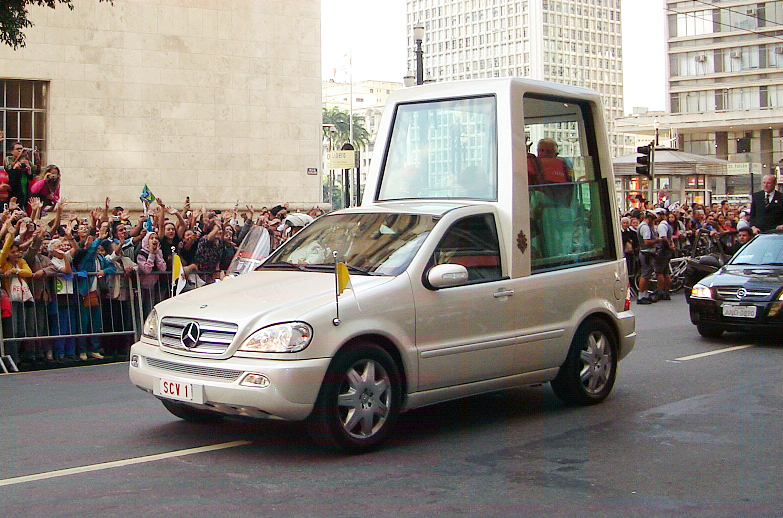 Now that is one righteous ride!
When I saw that his Holiness preferred the M-Class, I let out a loud "Roll, Benedict, Roll!" because as many of you know, that little gem is manufactured in none other than Tuscaloosa, Alabama. However, I did a little research and found that the current model was given to Pope John Paul II in June, 2002, so that means that particular one was most likely manufactured in Graz, Austria prior to Mercedes moving the entire M-Class operation to T-town.
But should he need another one anytime soon, it just might be put together by various Tide-rooting Protestants including not a few Baptists and Church of Christers. Talk about an ecumenical movement.
Speaking of Graz, Austria, in December, 2007 Pope Benedict added one of their fine G-Class products to his fleet for those times when he's in the mood to put the top down: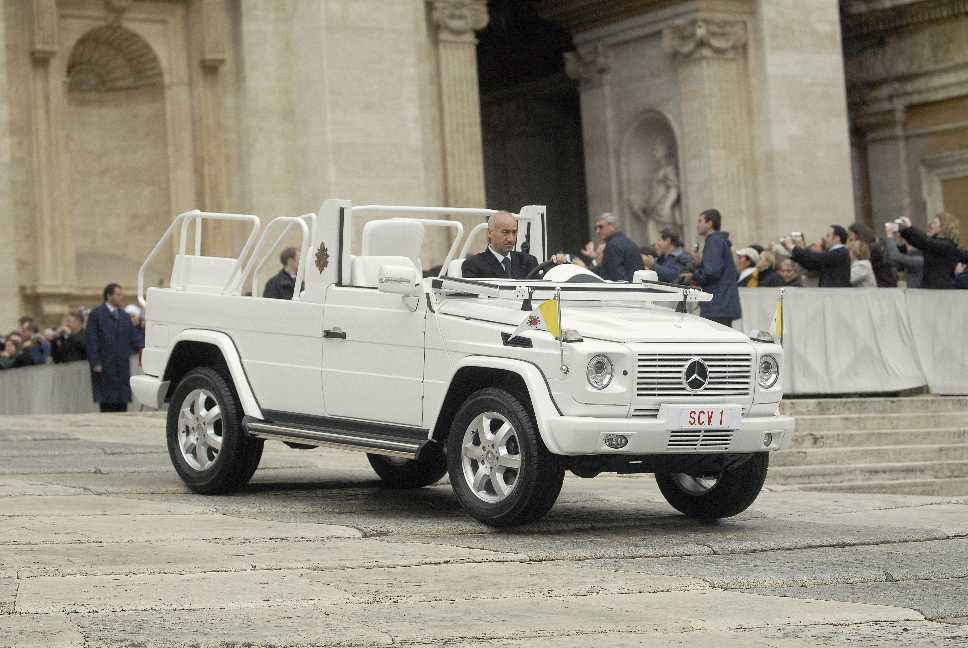 I'm thinking that particular Swiss Guard driving that bad boy is packing more than a pike.
Mercedes has been manufacturing the Popemobile for over 75 years, but that hasn't stopped others from trying to muscle in on the Vatican contract. A message to his Holiness: An Audi Q7 with Quattro would make St. Peter (and me) proud.
If you're wondering what kind of gas mileage SCV-1 (State City of Vatican-1) is getting around DC, I'm guessing no more than 10 mpg (the armor plating adds a lot of weight). That makes for a Sasquatch-sized carbon footprint, but when you're the leader of half of the world's Christians representing one sixth of the world's population, I guess you pretty much get a free pass.
Besides, he wears white, not green.