Huntsville's Hoelzer Backs Toward Beijing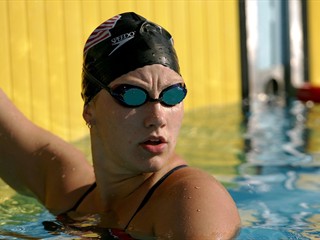 Huntsville's Margaret Hoelzer booked passage to the 2008 Beijing Olympic Games yesterday with a strong second place finish in the 100-meter backstroke event at the U.S. Olympic Swim Trials in Omaha.
Her 59.21 seconds would have tied the world record 2 days ago. But the winner, Natalie Coughlin, swam the first sub-59 second 100-back ever, her second WR in as many days.
This will be Hoelzer's second trip to the Olympics. She represented The Rocket City and the rest of the U.S. in Athens in 2004 where she finished fifth in the 200 backstroke.
Competitive swimming and diving are a big deal in Huntsville, and we've long served as a seedbed for collegiate swim programs such as the University of Alabama and perennial NCAA powerhouse Auburn.
Speaking of which, Margaret dear, please remember this: You can actually get on a plane and fly to Beijing with the rest of the team; you don't have to swim there.
Since you're an Auburn grad, I just thought you might need the reminder.