It's the way it is, but it doesn't have to be, Part 1
"Said, hey little boy you can't go where the others go
'Cause you don't look like they do
Said, hey old man how can you stand
To think that way
Did you really think about it
Before you made the rules?
He said, 'son
That's just the way it is
Some things will never change
That's just the way it is'
Ah, but don't you believe them"
Bruce Hornsby, The Way It Is, 1986
---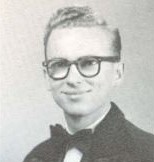 When Larry Bills, Harding College Class of 1958 music education major, stood to lead all three stanzas of the school's Alma Mater near the conclusion of the school's annual Black and Gold Homecoming Banquet in 2018, it was the realization of a decades-old dream birthed by the disparity between the way it is and the way it should be.
In the fall of 1957, a cloud of violence overshadowed the federally-enforced desegregation of Little Rock Central High School just 50 miles from the Searcy, Arkansas campus. A group of Harding students and faculty were primed for a movement after years of reflection fueled by clandestine discussions, mutual labor with black Churches of Christ in the Searcy area, and student editorials in the student newspaper The Bison.
As they witnessed the poignant news footage and images emerging from the state capital, they heard a clarion call to action and answered with precision and purpose, just like the Searcy-based National Guardsmen following President Eisenhower's command to enforce the desegregation order in Little Rock who mustered for duty at the sound of the church bells downtown. 
Disobeying orders from President George S. Benson and other administrators, they composed and circulated for signatures the Statement of Attitude (SoA) and recorded for posterity their solidarity with the Little Rock Nine and their willingness "to accept as members of the Harding community all academic and morally qualified applicants, without regard to arbitrary distinctions such as color or social level." When the SoA was passed Larry's way, he signed, as did his future wife Sara (née, Good).


But he wasn't done. He had in mind a "statement" of his own, which at the time, would have crossed the line from "fine young Church of Christ man" respectability into perceived rebellion and most likely triggered, in his words, "my immediate dismissal.". 
Should President Benson, against long odds, announce in chapel that the school would be desegregated, Larry had resolved to immediately stand in the middle of the Administration Auditorium (and hope to heaven others would follow his lead and not him leave twisting in the wind) skip the first two verses of the Alma Mater, and immediately launch into the third, words he had never in good conscience been able to sing because they were not yet true:
Harding opens wide her portals,
Thus inviting all
Who would tread the path to knowledge;
Heed then to her call.
However, that announcement would not come until September 1963. Now, 61 years later, here was a fresh opportunity to set some old wrongs to right. Just like 1957, he was careful to keep his plans guarded, trusting them only to the confidence of a very tight circle, including Sara,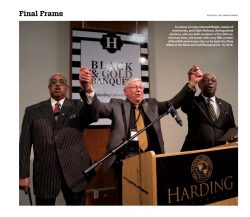 He talked to and conspired with two friends, Howard Wright and Elijah Anthony, the first two African-Americans to graduate from Harding in 1968, for them to walk forward and join him as he concluded the second verse of the Alma Mater and started the third. They did so, clasping hands with him, and as they closed out the last verse (Alma Mater, Hail!) together they extended their arms and held them aloft as the crowd, many moved to tears by this flesh and blood, acapella fulfillment of a promise finally kept, joined them in a chorus of full-throated approval.
It was a powerful moment, yet for Larry, it was tinged with melancholy and a bittersweet aftertaste. 
By all appearances, there was a trio leading Harding's school anthem that night. Larry, however, carried the memory–and burden–of an absent fourth, a young man he had met and befriended in the summer of 1955 who never grew old.
He was someone who, had the powers that be been more intent on scrutinizing their ingrained racial prejudices by the light of holy writ and less focused on the bottom line of their financial ledgers, might have aged just as gracefully and even joined them up front and made it a gospel quartet.
To be continued.