Chapel protests, or hey, someone really *is* awake!
Let no one despise your youth, but be an example to the believers in word, in conduct, in love, in spirit, in faith, in purity.
–1 Timothy 4:12 NKJV
I am indebted to Harding University President Dr. Bruce McLarty for sharing Larry Bills' story at the beginning of his message to the Harding community about the 18,000-plus signature petition to remove George S. Benson's name from the auditorium on campus and rename it after Botham Jean.  This was, for me at least, an unforeseen development driven in part by public and alumni reaction to the story I published in the Arkansas Times on the Statement of Attitude protest by Harding students in 1957 during the Little Rock Crisis but one which I accepted with dutiful resignation if not outright enthusiasm.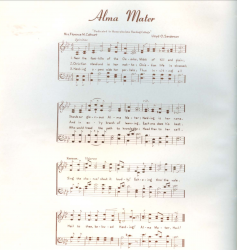 Without that heads up about Larry and other students refusing to sing the 3rd verse of the Alma Mater in 1957-58, which promised that Harding's "portals" were open for all (when, of course, they weren't), I might have never known him or had the opportunity to work with him in telling "the rest of the story."
So, thank you, Bruce!
Larry and I have been communicating over the past couple of weeks and getting to know each other, and I must say, it's been a lot of fun.
As it turns out, he lives just down I-65 from me in Montgomery, Alabama. He's a wonderful person and a lifelong Christian college educator and administrator having served at Northeastern Christian Junior College near Philadelphia back in the day and also at Crowley's Ridge College where he was president from 1987-2001.
Of course, in no time flat, we determined that we had a good friend in common who just happened to have been one of my roommates at Harding and the best man in my wedding, once again proving that the Churches of Christ in general and Harding in particular are the Mafia minus Ray Liotta, Robert De Niro and Joe Pesci.
Larry is a spry octogenarian with a lively mind and a heart for justice, and apparently he's pretty fit, too. He mentioned he had been doing yard work in this hellacious Alabama heat, and I, being the medical professional nag I am, playfully fussed at him a little about it.
His reply: "Never quit until you CAN'T GO!" And really, what is there to say to that except, "Amen, brother?"
As it turned out, there was more backstory to Larry's refusal to sing the 3rd verse of the Alma Mater prior to desegregation, and I wrote a prologue of sorts about his act of protest in Part 1 of "It's the way it is, but it doesn't have to be."
Yesterday, Larry and I worked as a team and scored a major research coup, the details of which will hopefully empower Part 2 to "deliver the goods" and bring the story home. So, stay patient, and stay tuned.
Any time you try to research and write a story from the distant past you're waging a war against Father Time and failing memories. It is not that the narrative is completely erased; the broad contours are often readily discernible, but a story's detailed edges can vary depending on who is asking the questions and doing the writing and the recollections of those being interviewed.
For instance, one of the questions I had when I first read about Larry was, "Did I miss an important detail about student protests during the 1957-58 academic year at Harding?" If there were indeed "many students," as Bruce wrote, who refused to sing the 3rd verse, then that juicy tidbit had obviously eluded me the first time around.
Larry helped me understand what was going on: He is sure that he was omitting the third verse and he believes some other students may have been as well.
I reasoned that had this been a mass music protest movement, then there could have been a sudden decrease in singing volume when starting the 3rd verse of the Alma Mater which might have served as a source of embarrassment–and most likely an impetus for some kind of punitive or preventive action from administrators–and would have been noticed by many and become a part of Harding lore from that year.
Bill Floyd, for instance, President of the Student Association in 1957-58 who led the movement to desegregate Harding that year, could not recall anything like that occurring, but he readily admitted he wasn't a "music guy."  He said he might have missed or been oblivious to such a movement among a group of students more inclined toward improvising and "rearranging" a piece of music as a discordant dissent. 

Then I thought, why not check in with another Class of '58 member and SoA signer, one who most definitely was "a music guy," and see what he recalls?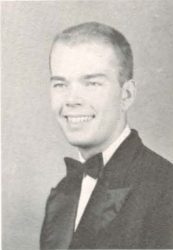 So I got in touch with Bob Scott, a music education major from Kansas, and asked him.
This is what he said: "The students lustily sang  'thus inviting almost all.' It was a wide spread  practice."
Aha! The chapel protest plot doth thicken! That sounds like the kind of cheeky acting out that college students from just about any era might do just to take a poke at The Man.
Time to check back in with Larry.
"I meant to mention that the (almost) bit seems to be somewhere in the deep recesses of my mind, but I can't confirm it. On the hand, it does fit with some of the existing atmosphere. I think Bob is slightly younger than I (by a few months) so maybe his memory is better. Ha!," Larry wrote back.
See what I mean about "details can vary?" But you know what? That's one of the things I love most about researching and writing stories.
I think we can reasonably conclude there is a high likelihood that "something was afoot with that 3rd verse" during chapel that protest-filled year, but we can't be entirely sure what it was. I think we also can also surmise that some students were actually awake during that venerated morning ritual–at least part of the time.
Perhaps it's not an "either/or" dilemma but a "both/and" win-win. Ultimately, that particular question and its answer, seen through the hazy mist of multiple memories, is shrouded in mystery. And who doesn't love a good mystery?
For me, it simply adds to the intrigue, mystique–and fun.
All this brought on a nostalgic reverie of my own about some subtle, silent protesting I engaged in during my entire 4 years at Harding. And no, it wasn't napping. It actually involved standing. 
But that, dear Fusioneers, is a story for another time.
Have a great weekend everyone. Stay safe, wear the damn mask for both "love of neighbor and country," and keep fighting the good fight. 
As Congressman John Lewis ("May light perpetual shine upon him") said, "Get in good trouble."