Tarheels Launch Preemptive Invasion Against Duke
Concerned over rumors of a resurgence in Duke University football and the potential loss of the coveted Carlyle Cup, the UNC Tarheels launched a preemptive strike against the Blue Devils this past Saturday.
"Operation Eat Mor Chikin" began just prior to the kickoff of the Blue Devils home opener when two UNC paratroopers landed on the field at Wallace Wade stadium shouting "Mission Accomplished!" as soon as their boots touched the ground. That mission was to kidnap new Duke Head Coach and offensive mastermind David Cutcliffe and to commandeer his WMTs (Weapons of Mass Touchdowns).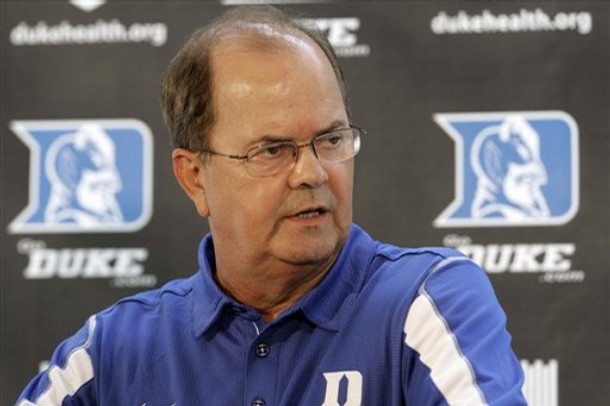 The operation went awry, however, when the twelve Duke students who actually showed up to watch the game and the lone Blue Devil security guard, Barney Fife III, chased the interlopers from the field.
UNC Head Coach Butch Davis, who conceived of the mission over a few too many beers at the annual coaches retreat at Nags Head Beach earlier in the summer, was furious.
"Dagnabbit! I told Rummy we should have sent more in the first time."
Davis' concern over the rise of Duke football proved correct as the Blue Devils proceeded to thrash traditional NCAA football powerhouse James Madison University 31-7 once the stadium had been secured.
One Duke student, who preferred to remain anonymous since being seen at a football game is considered to be a social faux pas of the highest magnitude, shot this video of the invasion, which, as it turned out, ended up being the ACC Football Highlight of the Week.
"Who would have thought that Duke football would actually strike that much fear in anybody," he gushed.
"We figured ESPN wouldn't even give us the time of day until basketball season rolled around in a couple of months."
Duke athletic director Kevin White is having nothing to do with the football theory. He believes Coach Cutcliffe, who is also apparently the good twin of Republican political operative Karl Rove, was not the intended target.
"We've heard from our sources that the actual goal of the invasion was to kidnap Coach K who was scheduled to appear at halftime wearing the 11 gold medals (Jason Kidd gave his to a Las Vegas "casino owner") given to him by the grateful members of the USA National Basketball Team."
"However, due to faulty intelligence, the troopers landed prior to the kickoff instead," he theorized.
Christoph Guttentag, Dean of Admissions for Duke, was quick to see the upside and was considerably more sanguine about the whole situation.
"Look, forget about Obama's speech, Governor Palin, the Republican convention and Hurricane Gustov–we absolutely dominated the Labor Day weekend news cycle."
When asked about Duke's response to the invasion, Guttentag had this to say:
"We don't have to do anything except hunker down and wait. We're expecting a tremendous, ahem, surge in student applications to Duke at any moment."