Spread Eagle, We Hardly Knew Ye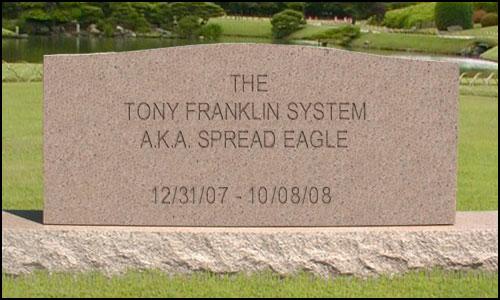 Last Saturday night we were in Montgomery, so the Auburn-Arkansas game was blacked out, PPV only. I'd been following the game online and when I realized that Auburn was trailing–and driving–with minutes left, I yelled for Number One to follow me to the car so we could listen on the radio.
With first and goal inside the 5, at home, I just knew Auburn was going to gut it out. When they failed to score on 4th and goal, Number One and I, rather than celebrating wildly, just looked at each other, shocked and speechless.
When the Hogs intercepted Kodi Burns' last pass, I thought about the many people I knew in that stadium, dear friends all, and I looked at Number One and said, "You know, I'm actually starting to feel a little sorry for them."
Number One would have none of that kind of talk. In fact, I think if I hadn't been his father, he would have slapped me.
"No, no, NO! Don't do that! You gotta understand–they've gotten spoiled. They expect to win all the time, like it's their birthright or something. You don't have to worry about them, they'll be back. But right now, they've got to suffer, just like we did. It'll be good for them."
I considered those words of wisdom and knew in my heart that he had spoken the truth. And then I followed him back inside where he and Number Three set about plastering their Auburn friends' Facebook pages with a wide assortment of taunts, teases and "Roll Tides." I laughed out loud at their creativity and joined right in–because you never know how long the good times are going to last.
Roll Tide, Roll.