Dad, Uncle Mike Said A Bad Word!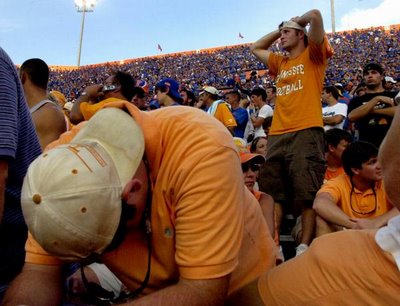 This picture of distraught Tennessee Vol fans was taken at Florida last year, but it's probably pretty representative of how they looked toward the end of that 41-17 smackdown in T-town a few weeks later when the Million Dollar Band was firing up The Rammer Jammer.
For those of you from other less-civilized parts of the world, The Rammer Jammer is a traditional, and somewhat controversial, cheer taunt which is heard in the closing seconds of a football game when the outcome has been decided in the Crimson Tide's favor. Oh sure, it does contain a relatively mild profanity, but that very same word is mentioned in the Bible a bunch of times after all, so it can't be that bad.
I know what you're thinking: Mike, that must be a sight to see. Yes it is, and if you've never had the privilege of sitting in Bryant-Denny Stadium on a bright and shiny fall afternoon to take part in that great Southern pastime, take a gander at what you've been missing.
I really don't relish doing that cheer. Honestly. Especially when family members are involved.
But I will admit that I got caught up in the moment last year and texted the entire Rammer Jammer to my brother-in-law J. who was attending the game along with our 9-year-old nephew E.. J. is a Knoxville native and a graduate of the UT School of Medicine, so he came by his Vol-fandom honestly and is actually pretty low key and cool about it (smart move, this year especially).
E., however, is a cocky, all-orange-all-the-time, trash-talking little stinker who will wear you out with his endless smack even if your team happens to be blowing the Vols off the field.
I had intended the Rammer Jammer for J.'s eyes only, but as luck would have it, E. was manning the cell phone when the text message came in. He started to read it aloud, but when he got to the part about that afterlife destination that nobody wants to go to, he paused, turned to his father and said, "Dad, Uncle Mike said a bad word!"
Now don't go feeling sorry for the kid. Believe me, the little punk deserved it. It was just deserts for the way he openly taunted us when Arkansas took the lead against Bama a month earlier when we were visiting them at their house (Bama, as you might recall, came back and won that one in a thriller. Take that E.–HA!).
After the game, J. and E. headed to a tailgate party. Number One quickly located them and joined the fun. There was no way he was going to miss an opportunity to give his orange-clad cousin a little grief. "Roll Tide!" he called out as he gave E. the customary headlock and noogie that older cousins are obligated by natural law to dish out in such situations.
E. was eager to give Number One the scoop on Uncle Mike and his bad word and then he looked up at him with those big, round, innocent eyes and asked him he used said that word back there at the stadium, too.
"Yes, I did," Number One said. "But I only use it on very special occasions."
Here's hoping that tomorrow night's game will be another such "very special occasion." Because if it's not, man, oh, man, am I ever going to hear about it.
Roll Tide, Roll. Please?