It's A Dog's Life, But It's Not So Bad When You're 8-0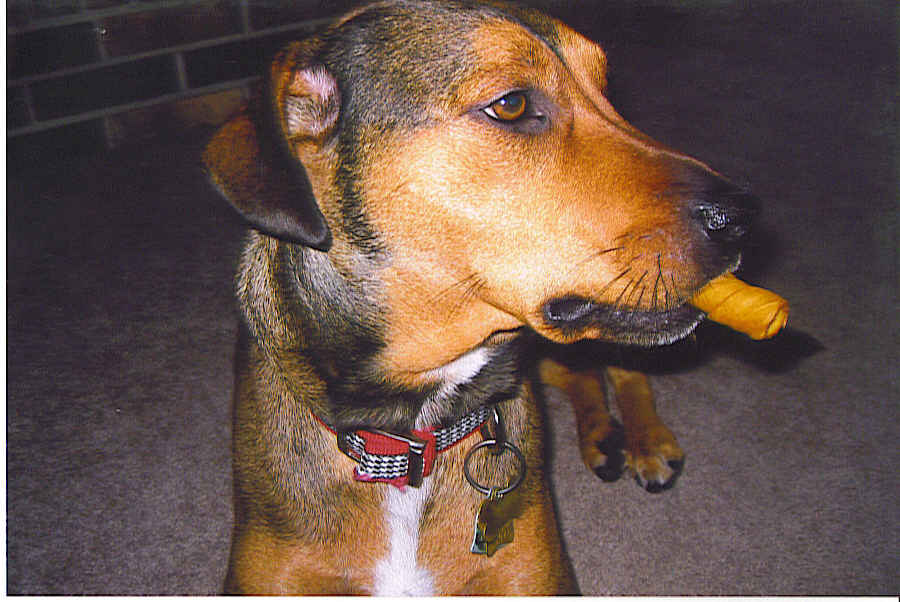 The legions of crimson-clad Bama fans who invaded Knoxville's Neyland Stadium, turning it into Tuscaloosa-Northeast, weren't the only ones psyched up about the Tide's workmanlike 29-9 dismantling of what's left of the Tennessee Volunteers Saturday night.
As you can see, despite the threat of NCAA sanctions for "extra benefits," Amazing Gracie the Wonderdog fired up her traditional victory stogie nonetheless.
Come to think of it, Gracie's life revolves around a full menu of "extra benefits:"
The traditional victory cigar, of course, along with the lovely houndstooth collar.
An always-full water bowl and endless supply of dog food and glucosamine-fortified treats (she has a touch of arthritis in her hips, poor baby).
On sunny days, thermo-therapy for those arthritic hips via the sunbeam which streams through our dining room window most of the day
24-7 access to a full array of massage and physical therapy, including head, chest and stomach rubs
The privilege of sleeping whenever and wherever her little heart desires, including the new living room furniture
A big back yard where she can run, bask in the sun, "take care of her business" and play with her little chipmunk friends, even if it does mean they end up with broken necks
The divine right to be recognized by anyone who walks into the room, including all visitors who must first fall on their knees and pay full homage the moment they enter the front door
All toll, it's enough to make your typical NCAA bureaucrat seize up in a fit of prickly self-righteousness.
Yeah, it's a dog's life, but it's not so bad when you're 8-0.
As Gracie would say, "Ro Ride, Ro!"