Guide Me O Thou Great GPS–And Talk Sexy To Me While You're At It!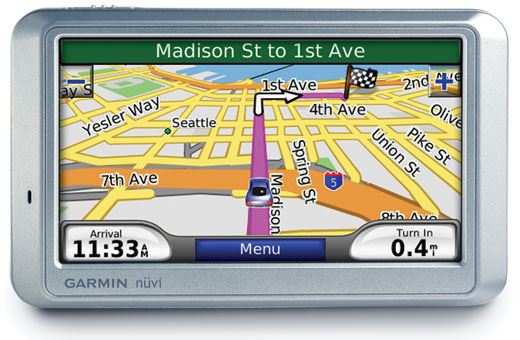 I did a double take when I filled up the trusty German sports sedan at Sam's Wholesale Club the other night.
Was the final total really only $33? I took off my glasses, checked for smudges, rubbed my eyes, put them back on again and stood there staring at the digital readout. I wasn't seeing double. I was seeing half.
I looked around and the mood among my fellow customers was one of great jubilation. One man was happily chattering into his cell phone, "Can you believe this?" Another finished filling up his Ford F-150 Double Cab, stared at the final total and started bawling like a baby, tears of unadulterated joy flowing like a river down his ruddy cheeks.
We were partying like it was 2-0-0-4.
I quickly called Eyegal and shared the good news, that I had just filled up for half of what I did just a few months prior. Being the retired CPA and family CFO, I'm sure she was already calculating how she could take the extra coin and pump it into another part of the family budget such as groceries, much-needed-house-repairs or something boooring like that.
But our country's economy was flagging and in danger of implosion, and being the patriot that I am, I knew what I had to do.
I executed a U-turn into the Sam's main parking lot, withdrew my club ID card from my wallet and started toward the door. I flashed the ID at the greeter who gave it a cursory glance, smiled and waved me through as usual. I made my way (slowly) through the electronics until I found my "item of interest." After a very short internal debate, I grabbed the card containing the barcode of my desires and started for the register.
I'd been gazing longingly at the GPS devices (aka "personal travel assistants") for a couple of years now. Frankly, I would start to shake and my hands would grow tremulous every time I was near them. I've always been fascinated with maps of all kinds and could stare at them for hours.
But a map that actually moves with you and pinpoints your position in real time? One that talks to you in "American Jill" or "British Emily," or, in a pinch, "Mandarin Chin-Li?" It was like all my Star Trek dreams had come true. What's next–a device that actually flips open and that you can talk into, like a real, bona fide "Communicator?"
I unwrapped my prized Garmin Nuvi 750 and fired it up. As advertised, it quickly honed in on the hovering satellite. After typing in my destination (home, please), off I went, "American Jill," in that sweet, sexy voice of hers, guiding me every step of the way ("turn right here–you delicious, intellectual hunk of a man, you.").
I'm pleased to report that I made it home efficiently and in record time. And I didn't get lost once. Oh, and the Home Depot, McDonald's and the corner Shell Station were all right where they were supposed to be! Who knew?
With our Thanksgiving trip to Grandma's house in Virginia coming up in a couple of days, my timing couldn't have been more perfect. My "personal travel assistant" will not leave me in the lurch. Never again will I be wandering aimlessly along I-81 in Tennessee between Mohawk Crossing and Blountville searching frantically for the nearest Taco Bell.
And with Number Two's upcoming trip to Harding to check out his prospects there, I won't have to worry so much about whether or not he'll miss that tricky turn onto Arkansas 64 near West Memphis and end up in St. Louis before he realizes what happened. So really, it's all about family.
Guide Me O Thou Great GPS–and talk sexy to me while you're at it!
Lewis and Clark never had it so good. And if they had, they would have arrived at their destination much sooner and eaten a lot better.