Tommy, This Is Going To Hurt Me A Lot More Than It Will You, A'ight?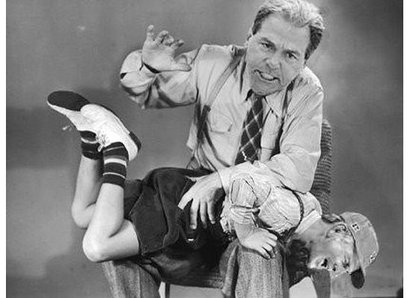 …34, 35, 36…and one to grow on!
Kinda creepy, huh?
You know I'm just kidding, right?
You know, I know, heck, we all know that Tommy Tuberville's sudden "resignation" this week had absolutely nothing to do with the "Beatdown in T-town" Saturday, right? Right?
If not Nick Satan, then maybe it was Karma…
I know I've gone on and on about the whole "finger thing," but the fact is, after 6 straight wins you have to expect that. This is the SEC, not the ACC, for Pete's sake. When it comes to football, one expects the knife to be twisted in the small of the back under such circumstances.
But what about holding up another finger before the big game?
Now when I first read on some of the Bama blogs that CTT and the Auburn players were holding up 7 fingers when they disembarked from their buses and made their way into Bryant Denny Stadium last Saturday, I frankly didn't believe it. Had it not been for an eyewitness account from the presumably more neutral New York Times, I might have continued to blow that one off as so much apocrypha.
I mean, what were they possibly thinking? Given the way the season had gone up to that moment, doesn't that represent some kind of pathological disconnect with reality? Did anyone get a whiff of what that was they were smoking on that bus? Was this mere "fire up the troops, into the Valley of Death rode the 600" bravado, or did they really think they were a shoo-in to win? I mean, come on, surely Tubbs was thinking "we just gotta keep this one close and then maybe they'll hand it to us on a silver platter," right? Right?
I'm thinking that the football gods, one of whom was wearing a Houndstooth fedora, were looking down on that. And they were not at all pleased.
In all seriousness, though, you'd normally think that a HC who'd had as much success as CTT has over the past 10 years would be able to survive one 5-7 season and one thumpin' from his archrival without getting canned. But you know how it is in Big Time college athletics these days.
What you may not know is that the "Auburn family," is, well, a little different, and that it's led by a dude named "Lord Lowder" who has been known to snap the necks of his opponents with a mere twitch of one of his bony fingers.
No, I think this week's little soap opera down on The Plains was about more than one season or even one game. Apparently, this was a marriage that's been on the rocks for some time–since, oh, about 2003 and the infamous "Jetgate."
The firing squad had been cocked and loaded for several years. Getting outrecruited by Saban last winter (and again this year), the failure of the "Spread Eagle" to lift off, the Franklin firing, 5-7 and 36-0 merely gave Lowder and his stormtroopers the chance to settle some old scores and an excuse to pull the trigger.
Yeah, yeah, I know–it was a "resignation." But Tubbs is not stupid. When you've lost the confidence of your AD, the Board of Trustees and the administration, one year of "rebuilding" is not likely to make a difference. In all likelihood, it would have been even uglier next year this time. Might as well go ahead and get it over with.
As many of you know, CTT is CofC (Church of Christ, for the uninitiated), and I understand from people who know him, that he's a pretty decent dude, finger wagging and smirking, notwithstanding. I mean, anyone who smiled and waved at Number One Son even though he was about to run over him in his VW Passat can't be all bad, right?
I wish him the very best. Assuming that Arkansas and Auburn don't work out some even coach swap (wouldn't that make everyone happy?), the money is that he will end up at Mississippi State, giving him the opportunity to renew his vow that he will only leave yet another Magnolia State school in a "pine wood box."
It would also have the additional benefit of allowing the Tide to tan his little hide for years to come.
I hear they have some real nice barns down there in Starkville and that the duck hunting is to die for. Maybe he can do a little bit of coaching and then hit the Delta; sorta like The Old Ball Coach does a little bit of coaching and then hits the links over in Augusta.
What's that you say? There's a game in Atlanta this weekend?
Oh yeah, thanks, I almost forgot.
Finally, after all this operatic drama down at The Barn and the much-ballyhooed Big 12 foolishness, all eyes are on the SECCG in Hotlanta this weekend. This is as it should be. All is right with the world.
Two very successful teams. Two very different ways of taking care of business. Speed versus power. Spread versus off tackle with a little dink and dunk. New School versus Old School. Heidi Klum versus Rosie O'Donnell.
But really, if you were lining up across from Tim Tebow, who would you rather have beside you, Heidi or Rosie?
Much has been made this week of the 10 point spread, Florida being favored despite Bama's undefeated record and #1 ranking, yada yada.
Meh. Whatever.
I don't really care, and neither do Saban and the boys. I understand it, though. If I weren't such a homer, I would probably pick the Gators, too. Believe me, I understand sex appeal.
But doesn't this feel just a little like some kind of Karmic setup? I mean, don't you sense some kind of Disney movie mojo going on here? Ugly duckling underdog goes up against glamorous All American everybody's favorite and comes out on top despite the odds?
I like it–I think we have 'em right where we want 'em. And I think we're going to do quite well tomorrow.
The key? Getting to Crown Prince Tebow enough that we limit his damage (remember Michigan last January?). Then smashmouth, mistake-free football for 4 quarters. Nothing less will do.
It could happen. And even if it doesn't, it's still a'ight. There are a lot of people who would like to be 12-1 and headed to the Sugar Bowl. Just ask Tommy Tuberville.
But I hear that Miami is real nice this time of year.
Roll Tide, Roll.