Some Camo Eye Candy for Carolinagirl
Long time reader and commentator Carolinagirl is back from "playing" in The Sandbox, but she's a little glum this morning after her beloved Army Black Knights were keelhauled yet again (their 7th straight loss ) by the Navy Midshipmen in the annual Army-Navy game.
Chin up, cg. Here's some camo eye candy that should brighten your day: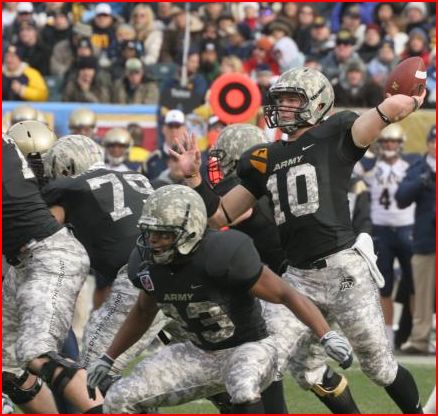 Both teams were sporting the new Nike "Enforcer" uniform, but Army's camo threads were over-the-top-o'-the-trench AWESOME. When I saw them I yelled, CHARGE! I immediately gathered everybody in the house to see them and called Number One Son at Bama to make sure he saw them too.
Forget Penn State all white, green Irish jerseys and Georgia black (not that The Dawgs would want to remember). These uniforms will be enshrined in the Sartorial Hall of Fame.
Of course, you've got to do more than look good. You've got to play good too, and Army has a way to go in that department.
Next time, I would suggest bringing the howitzers. Or maybe those Delta guys from that TV show "The Unit."
Go Navy!–for obvious reasons.