Clarkston 1, Huntsville 0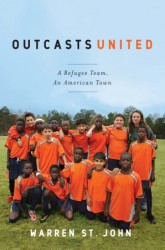 Eyegal and I had the privilege Sunday night of hearing author Warren St. John (Rammer Jammer Yellow Hammer–A Road Trip Into the Heart of Fan Mania) discuss his new book, Outcasts United–A Refugee Team, An American Town.
St. John's book chronicles a season in the lives of "The Fugees," a soccer team comprised of teenage boys from around the world who now live in the tiny southern town of Clarkston, Georgia outside Atlanta as a part of a United Nations refugee resettlement program. The central figure in the book is The Fugee's coach, Luma Mufleh, a young Jordanian woman of privilege and Smith College graduate who, as it turns out, is something of a refugee herself (her father cut her off after she refused to return to Jordan following graduation).
Mufleh's heart went out to the boys one day when she saw them playing pickup games in Clarkston and decided to volunteer her time as their coach. It ended up being much more than that. Soon she found herself totally intertwined in the lives of these boys and their families who have been marked so profoundly by war and tragedy.
Warren was very humble and gracious in his talk, and he spoke at length about the effects that these refugees, and the game they love, have had on the small, conservative town of Clarkston. It hasn't been easy, he said, but they're working it out.
He went on to say that Clarkston may serve as something of a "fast forward" sneak preview of what is already happening more slowly in other areas of the country as an influx of immigrants, along with their customs, values–and games–bump against and blend with those of their new American neighbors residing in long-established, and sometimes resistant, communities.
Afterward, Warren signed our books (I even slipped in my copy of Rammer Jammer), and we walked out into a warm and pleasant Alabama spring evening, the lights of Huntsville dancing and twinkling below our mountaintop perch. I called Number One Son in T-Town and told him about the talk, and of course, bragged a bit about my signed RJYH.
As we drove down the mountain, we talked and reflected on how the story we had just heard related to recent events in our own community. We thought it ironic that so many in our own, lily-white Southeast Huntsville suburb would react so negatively and strongly to the placement of a few public-housing families into our neighborhood when the citizens of Clarkston had faced a much more profound upheaval of their "old ways" yet worked through their differences and found new ways to make it work.
We thought about the recent anger in Huntsville toward illegal immigrants in the wake of a horrible tragedy which claimed the lives of two local teenagers and considered the gracious and genuinely Christian response of the mother of the young girl killed–and we blushed at our anemic efforts at faith.
And then we reflected on our own church, with its recent emphasis on "church growth" and becoming more "seeker friendly"–if by "seeker" you mean mostly affluent professionals "like us" who supposedly will be moving into the area soon and "seeking a church home." If we just scoot over in the pews and smile a little more broadly, we're told, they'll flock to us like flies to honey and we'll be able to tell them the "Good News."
We compared all the words with the actions of Luma Mufleh and others in Clarkston who had reached out to true "seekers"–aliens displaced by the arbitrary evil of this life, the kind seeking shelter and safety and an opportunity to live in peace–and we said out loud, "Now that is God's work."
And then we blushed again.
We wondered what it would be like if what has happened in Clarkston occurred in Huntsville as well. If it was a soccer match, we thought, we knew what the final score would most likely be:
Clarkston 1, Huntsville 0.