Blogging–The Wonder Years, Chapter V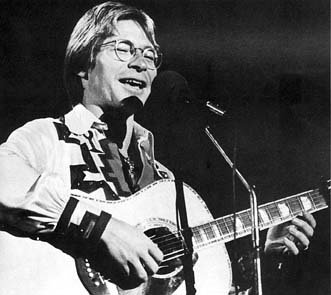 Speaking of Henry John Deutschendorf, Jr. (aka John Denver), in 1974 he was one of my favorite musical artists, along with Elton John, Steely Dan, The Eagles and Bachman Turner Overdrive (BTO). I was pretty eclectic, even though I had no idea at the time what that word meant. All I knew was that I liked it loud–"Annie's Song" was simply not the same unless it was belted out at the top of one's lungs with the radio volume button turned all the way to the right.
Hence the problem. This was long before the advent of "personal listening devices" such as iPods, back in the stone-age when LP stereos were located in common areas and a set of headphones was a rare luxury. I shared my common living area with a 16-year-old classical music-crazed, piano virtuoso wannabe older sister and a 2-year-old sister who was more into Romper Room, Mrs. Beasley dolls and taking naps in the middle of the day. Obviously this cramped my personal music listening style, and on November 11, 1974, I had reached my breaking point as this poignant entry from my 7th grade journal clearly shows:
I'm not getting equal time. My sister is always at the piano with the bust of her best friend Beethoven. She's always playing her nice, sweet sonatas and not leaving time for me and John Denver. You see the stereo is unfortunately in the same room as the piano. I just can't win. Either one sister is asleep or the other is playing the piano. I'm getting a couple of more John Denver albums for my birthday and I'm not sure I'll even get to play them. Oh, how I long for December 25th when I will get a record player of my own!
Oh, the travesty of justice, oh the inhumanity of it all! This was not the first time that my eyes were opened to the fact that "equal rights" meant that guys got screwed, nor would it be the last. Fortunately, I did eventually get my own stereo, plus dad built a new bedroom for me in the basement, my own personal sound studio perfectly suited for cranking up the volume to the appropriate eardrum numbing, uberdecibal levels that these days account for my constant refrain of "Heh? What's that you said, Sonny?"
A couple of years later, I even got to see John Denver, live in concert at the Roanoke Civic Center–along with my parents and sisters. Yeah, those were wild times in Southwest Virginia. While Eyegal was in the big city of St. Louis, riding some air guitar playing dude's shoulders while holding aloft the ubiquitous butane lighter at a Boston concert, I was sitting in Roanoke with my family while John Denver belted out such classics as "Thank God I'm a Country Boy," "Country Roads," and "I'm Leaving on a Jet Plane."
What my parents didn't count on was the fact that the one-hit wonder Starland Vocal Band was the opening act. When they launched into a rowdy and raucous rendition of "Afternoon Delight," I was, needless to say, intrigued:
Gonna find my baby, gonna hold her tight
gonna grab some afternoon delight
My motto's always been, when it's right, it's right.
Why wait until the middle of a cold dark night
When everything's a little clearer in the light of day
And you know the night is always gonna be there any way
Sky rockets in flight, Afternoon Delight. Aaaaafternoon Delight!
And that's just the PG-rated stuff. But you know what? Starland Vocal Band had stumbled on to a great truth there. As Eyegal and I have discovered over the years, "delight" can often be uncovered in the midst of crazy times and places such as in between diaper changes, in the kitchen as the macaroni and cheese is starting to burn and even in the middle of a cold dark night when you're bone tired and world weary. All in all, it's been more than enough to make me forget all about Annie.
These days, my best stereo is a Bose and it's located in my little black Audi A4. Most of the time, I'm not ashamed to admit, I listen to NPR and classic/soft rock (there's no use in hiding it, unless I'm toting around my sons and their friends). Every now and then, strains from a distant past fill my ears, and I reach down and instinctively turn the volume dial all the way to the right. Suddenly, it's 1974 again, and Annie "fills up my senses" while the young turks in their tricked-out Honda Civics look on in awe and bemusement as a stone-age relic transcends the surly bonds of the mundane and passes into audio nirvana.