Fast Times at Huntsville High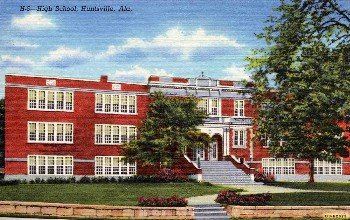 It's not every day that national news occurs in Huntsville, Alabama. But in the case of this particular story, we denizens of the "Rocket City" would have preferred to keep a lower profile.
Last Thursday, several seniors at Huntsville High School suffered from simultaneous group brain lock and decided that they would salve their senioritis and seal their legacy with the "greatest senior prank of all time." Their idea? Lure a mentally ill homeless man into the school with promises of food and money and have him take off his pants and streak down the halls in the middle of a class change. After apparently sneaking the man into the building through several locked doors, they were unfortunately successful in their attempt.
What ever happened to crickets in the hallway and stealing your archrival's mascot? Back in my day, if there was going to be any streaking, people generally had the spine to do it themselves without contracting it out. What gutless wunderkinder we're raising these days.
The resulting community uproar, among adults at least, has been intense. Thankfully, as of this morning, the story has had limited distribution through the wire services, although I expect that to change as the news cycle picks up this week. I don't know which is more disturbing, the fact that soon-to-be-on-their-own "adults" would conceive and carry out such a dehumanizing stunt, or the fact that now, even days later, they are being defended by many of their peers at school who think the incident has been overblown and was "funny."
Well "funny" is likely to be less so once the powers that be sort out the situation and begin to mete out punishment to the generals, lieutenants and foot soldiers who carried out the dastardly prank. Options include not walking at graduation and withholding their diplomas, suspension, explusion and some type of community service.
I would stop short of ruining someone's life, but I would make sure that the summer of 2006 is remembered for hard work, hot sun and the hundreds of homeless faces whom you served meals to down at the local rescue mission. Obviously, these seniors are missing some important pieces of education from their portfolios. Nothing like a little "summer school" to solve that problem.
So, this is what "fast times at Huntsville High" look like these days. I wonder what Jeff Spicoli would say? Probably something like, "No brains, no pants, no diploma."