Ocular Fusion 2.0–I'll Be Watching You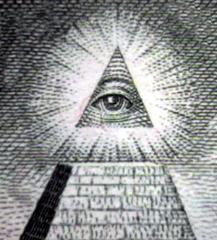 Whoa, what just happened you ask? Through the magic of a small piece of HTML-code strategically placed in my old site, you've been caught up and whisked away to Ocular Fusion 2.0 (www.ocularfusion.net). Talk about your raptures. Or would that be an alien abduction?
Anyway, now that you're here stick around and, as we say in the South, "sit a spell." I've still got some tweaking to do, but the bulk of the renovation is complete. Unlike my desk at work, the new site is clean, uncluttered and easy to navigate. No more depressing black either. I've decided (with fashion imput from my color consultant Scott) that brighter and cheerier colors are in order, the better to reflect my, uh, sanguine personality.
Probably the most distinctive and prominent feature of v. 2.0 is my right retina visible as the header picture. That took some work, and many thanks to fellow Harding alum Justin Baeder at WebbleYou for helping an HTML-challenged, middle-aged blogger make it a reality. Since, as they say, the eye is "the window of the soul," you can now look in and see if I actually have one.
And here's the best part. Are you ready for this? The retina really works!
You read me correctly. Through cutting-edge technology and a special corporate sponsorship deal recently reached with the boys at Googlezon (basically, I sold my soul), the header image has been wired such that I will actually be able to see each of you and what you're doing anytime you visit the site. Isn't that cool?
This is important, since some of you who have already "peeked under the covers" (that would be you, Bill) have noted that Blogger photos don't show up in the comments. Well, no problemo. Why settle for a picture that may have been Photoshopped when I can have a real-time image via my "all-seeing eye?" As for the rest of you, get your own retina. The boys at Googlezon are standing by to hear from you.
So remember that I'll be watching you as you read Ocular Fusion and make the necessary adjustments in your appearance. Please, for the love of humanity, no boxers or curlers. Lest you think this a bit too Orwellian for you, please remember that this is all about building community and becoming one with the media landscape. And, after all, resistance is futile.
Even though I'll be watching every move you make, every step you take and every vase you break, I plan for everything else to remain pretty much the same. That means the familiar random firing of neurons that you've all grown to love and appreciate, resulting in posts on "everything under the sun" and them some.
I'm still "just looking around and trying to put it all together." It's just that now I have to figure out what that is hanging off your upper lip as well.