R-a-z-o-r-b-a-c-k-s. Whatever.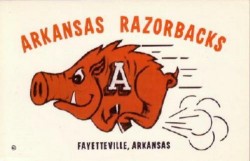 In July, 1970, my father loaded all of us into a blue, 1968 Chevy Impala sedan with newly-mounted, under-the-dash AC and headed west to Cal-ee-forn-i-a; swimming pools, movie stars, and the American Postal Workers Union Annual Convention at the Biltmore Hotel in downtown Los Angeles.
He decided that since this was a once-in-a-lifetime trip, we should hit all the highlights. On the itinerary were The Painted Desert, Grand Canyon, Disneyland, Yosemite, Sequoia, Vegas, Salt Lake City, Yellowstone, Mt. Rushmore and the St. Louis Arch. We even ventured off the beaten path and got a few kicks on Route 66 at some kitschy attractions like the Fort Courage Trading Post in Houck, Arizona.
But first, to get to all those iconic, picture postcard destinations, we had to pass through Arkansas.
That would have been Day Two of the trip. I remember because the first night we stayed on the Memphis side of the I-55 bridge in what was then a brand-spanking new Best Western but is now an abandoned, burned-out shell that you can stare straight through, front to back. The Brady Bunch was on TV that night, and Marcia, as usual, was reaping some praise or award while combing her flowing, golden locks and Jan, in a fit of jealous pique, had collapsed on the floor in one of her patented meltdowns.
The next day, we crossed the bridge into The (a la) Natural State and continued toward Little Rock. Accustomed to the towering Blue Ridge Mountains, I remember being appalled at the profound flatness of it all and watching out the window, slack-jawed, as I saw nothing but miles and miles of water, soybeans, alfalfa, rice, cotton, and for the first time in my life, houses on stilts.
But finally we reached Little Rock and civilization–such as it was. And I remember stopping for gas and a snack, and that's when I saw the strange, exotic creature for the very first time.
It was a red pig on a postcard. I picked it up and stared at it and slowly read the caption–Arkansas R-a-z-o-r-b-a-c-k-s, Fayetteville, Arkansas.
I asked my Dad about it and if we were close to Fayetteville. He said no, that Fayetteville was up in the Ozark Mountains in another, very different-looking part of the state and that we wouldn't be going there unless we got very, very lost. Then I asked him about the red pig: What is a R-a-z-o-r-b-a-c-k, Dad, and why is there a postcard with a picture of one on it?
He explained to me that a R-a-z-o-r-b-a-c-k was not like the ugly, gray, fat pigs that Granddaddy McGuire slopped back home. No siree, a R-a-z-o-r-b-a-c-k was instead a proud, ferocious, wild hog that the good people of Arkansas had chosen as the mascot for their university to symbolize that same wildness and ferocity their boys brought to the gridiron every fall.
Then he told me that before each kickoff, the good people of Arkansas, both in the stadium and throughout The (a la) Natural State, would "Call the Hogs," just like Granddaddy McGuire did whenever he filled the trough with slop. Woo Pig Sooie! he called out, right there in the middle of the gas station. Several people turned toward us, gave us a smile and a thumbs up, and Woo Pig Sooied right back.
I was impressed and intrigued. I asked him if R-a-z-o-r-b-a-c-k-s lived in those houses on stilts that we saw on the drive from Memphis to Little Rock, and he said, no, that they ran free and lived in the forest. I said, What forest? and he said, Oh, never mind.
Then I looked up at him with my pleading, 8-year-old eyes and asked, Dad, can I have this? He looked down on me with one of those loving, "Better give 'im what he wants so he'll be quiet in the car" looks of his and said, Sure Son, why not? And he bought it for me.
But here's the deal: I have no idea where that postcard is now, and I don't care.
R-a-z-o-r-b-a-c-k-s. Meh, whatever. Roll Tide, Roll.