Jerry Mitchell, MacArthur Fellow 2009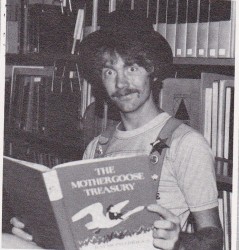 Pardon me, but does the goofy-looking nerd in the suspenders and top hat reading Mother Goose look like the type of guy who would strike fear in the hearts of murderous Ku Klux Klansmen?
Um, no, I don't think so.
And if you had asked any of us who attended Harding University in the early 1980s the same question and what we thought of the future prospects of Jerry "Boo" Mitchell, first-class clown, favorite chapel announcer and author of the somewhat subversive "Fifth Column" which appeared weekly in the school newspaper The Bison, we would have likely laughed and said something like "high school speech teacher," or "radio talk show host," anything, really, other than the Civil Rights version of Gabriel Van Helsing.
After all, it's one thing to poke some holes in Harding's conservative bubble and to expose what's really in that latest lump of mystery meat served up in Pattie Cobb cafeteria. But to help put the killer of Medgar Evers behind bars? Well, that's a hole different pile of muck altogether.
Even Boo was somewhat circumspect when sizing up his potential in the school yearbook back in 1981: "With my speech major, I plan on being unemployed." Byron De La Beckwith wished he had been. If he was still around, he'd probably be the first to tell you that it's the quiet and unassuming ones that you've really got to watch.
You see, Jerry went on to an award-winning career as a reporter for the The Clarion-Ledger in Jackson, Mississippi where he developed a passion and knack for investigating and re-opening "cold cases" from the Civil Rights era and bringing to justice murderous bigots who for decades had gotten off scot-free. First De La Beckwith, Evers' murderer, in 1994, and subsequently former Imperial Wizard Sam Bowers for the fatal firebombing of NAACP leader Vernon Dahmer, Bobby Cherry for the 1963 Birmingham church bombing that killed 4 young girls, and Edgar Ray Killen for his role in the murder of civil rights workers Michael Schwerner, James Cheney and Andrew Goodman.
For his efforts, Jerry was nominated as a 2006 Pulitzer Prize Finalist for beat reporting, but that was a mere warm-up compared to his latest accolade. On September 22nd, Jerry was named as one of 24 recipients of the uber-prestigious MacArthur Fellowship (aka, "Genius Grant") from the John D. and Catherine T. MacArthur Foundation. According to the Foundation website, the award is based on an individual's "exceptional merit and promise for continued and enhanced creative work," and is "an investment in a person's originality, insight and potential."
The award, likely the highest honor ever bestowed on a Harding graduate, is worth $500,000. What that means is that Jerry can now punch his own ticket; write the book that's begging to be written, or perhaps take a sabbatical and dive head long into some more cold cases he's been itching to look into.
It's 500,000 more reasons for Ku Klux Klansmen to pee in their pants, and 500,000 more reasons for Harding University to finally get around to inviting him back to campus to speak on a very large platform.
I was pleased to see Jerry get a shout-out in Liz Howell's most recent alumni newsletter, but Harding needs to go even further, throw out the black and gold carpet, and give this man a homecoming the school and her students will never forget. I wouldn't be a bit surprised to hear that there's a lot of scrambling going on to do just that.
And I hope that all this hubbub will someday lead to Jerry receiving the Distinguished Alumni Award that he so richly deserves. I know one of the criteria for that award is excellence in "kingdom work." Considering that theologian N.T. Wright describes one of the signs of the advancement of God's kingdom as a "world put to rights," I think Jerry's life work–bringing murderers to justice and providing cups of cool water to the widows and orphans of their victims–fits that qualification to a tee.
Jerry recently had a Skype interveiw with some Harding media ethics students in which he spoke about how he integrates his faith with journalism. His thoughts on truth, I think, cut across all professions:
"Well, there is such a thing as truth. I think that's what our job is as journalists, to be committed to that truth. Journalism, in its ideal, is one of those noble professions, because we're truth seekers, both as reporters and as Christians. What we're trying to do, in a very simple manner, is move toward that."
What is truth? Jerry Mitchell would say it's never stopping until the right thing is done. It's the kind of thing that sets victims of injustice free.
But if you're an aging Klansman cowering and quivering in some backwoods corner of the Deep South, it's the kind of thing that can land you behind bars for good.
Well done, Boo. Your classmates are very, very proud of you.