Bleeding Blue Devil Blue, Part I

At the stroke of twelve on a crisp mid-October night, madness ensues–the fanatical screams of blue-blooded partisans comingle with the metronomic thump of leather on a freshly waxed hardwood floor…
College hoops is in the air and just in the nick of time, babyyyy! Having endured the most boring World Series in recent memory (told you so) and the inauspicious debut of the "new" NHL, many are restless for a more adventurous journey in sport. The road to the 2006 Final Four will be long and arduous, ending in April in Indianapolis in what will surely be (because it always is) the most closely contested and nailbiting finish to any sport in America.
For Number 3 son and me, tis the season to don our Duke Blue Devil apparel and head up the local extension chapter of the Cameron Crazies. Along with the rest of the rowdy and raucous blue-clad Dukies, we jump in unison, chant insults and hexes at opposing players and raise our hands in anticipation of yet another J.J. Redick long distance trey (whoosh!). In our best broken Shakespeare we join our voices with the Blue Devil Nation: "Cry Havoc, and let slip the Devils of Duke!"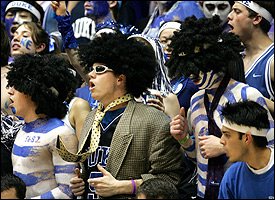 For the rest of my family, game time is a good time to head for safer parts of the house–living room furnishings have been known to become, ahem, rearranged in the course of a close contest. Occasionally Number One and Number Two sons will wander into the room and look askance at the spectacle of a man and his twelve-year-old son dressed in matching Duke shirts, standing inches from the television, gesticulating wildly and screaming like madmen. They usually shake their heads and move on–for them it is a quintessential eye-rolling moment. My wife will usually retire to a remote corner of the house and seek the company of a good book until the final buzzer has sounded and it is safe to return.
Number Three and I are especially bullish on this year's squad; Duke is ranked number one in the USA Today/ESPN preseason poll. Once again, Coach K has corralled some of the nation's top freshmen to add to a roster which includes four returning senior starters, most notably 6-9 center All-American Shelden Williams and 6-4 All-American shooting guard J. J. Redick (who hails from my birthtown of Roanoke, Virginia).
Why the facepaint and all the commotion? Why, as many friends have asked me, do I bleed Blue Devil Blue? I mean, it's not like I actually went there, right?
Well, the story of how I almost went to Duke, and why I didn't, is a story for another day…