Bleeding Blue Devil Blue, Part II
As I consider how I came to bleed Blue Devil Blue, it occurs to me that it was about much more than basketball, although that's where it started.



Growing up in Southwest Virginia in the 1970s, it was a rite of passage to develop a reliable jump shot because you never knew when a pick-up game would break out on some dusty, country court near you. In those days you didn't run down to Wal-Mart for a prefabricated, adjustable, pop-up goal. My Dad fashioned mine from wood the old-fashioned way–very slowly, by hand–and set it at the regulation 10 feet.
At first, I was so small that my only hope of making a basket was to stand directly beneath the goal and fling the ball upward in a desperate Rick Barry-style underhand heave. For the most part, the ball went straight up and came down directly on my head. I cried a few tears over that, but Dad reassured me that it was ok and that I would get better with time. Although he worked long hours at the post office, he would always take time out when he got home to shoot a few baskets with me, consistently ripping the net with his Bob Cousy-style set shot.
A few pounds and inches later I was able to move out to the perimeter, where I developed a reputation as someone who you didn't want to leave open, but whose shot could be easily blocked if guarded closely. I countered by developing a quick release and by rarely venturing inside the lane where the big boys loomed, eager to show me a face-full-of-ball.
Back then, it was also a tradition to watch the weekly Jefferson-Pilot broadcast of ACC basketball. Of course I rooted for UVA who had their own fine players such as Barry Parkhill, Wally Walker and later on Jeff Lamp and Ralph Sampson. But I also developed a liking for the boys down Tobacco Road way (no, not those boys)…the earnest Dukies who tried awfully hard but never seemed to gain any respect.
That was soon to change. In the late seventies, a group of players arrived at Duke who were to set the stage for the future. Jimmy Spanarckle, Bob Bender, Mike Gminski and Gene Banks were part of some great teams from the late 70s, one of which narrowly lost to Kentucky (or maybe I should say lost to Jack "Goose" Givens) in the 1978 NCAA Championship game. Bill Foster was the Duke coach in those days, but up at West Point, another young coach was prepping and paying his dues, biding his time until he would be called to lead the Blue Devils to the Promised Land.
In the Fall of 1979, I was a senior in high school, clueless as to where I would go after graduation. I figured that I would most likely follow the herd to UVA or Virginia Tech and apply to some other schools close by. Through some friends, I also became aware of a small, Church of Christ-affiliated school in the hinterlands of Searcy, Arkansas–Harding University. I decided to apply there as well, although it was not high on my list.
During this time, my father became very ill from heart disease and was told that his only hope was to undergo a new, potentially life-saving operation–coronary bypass surgery. In the late 70s, you didn't stop by your local community hospital to get new arteries for your heart. That required a trip to a major medical center, so off we went to Duke. They had a reputation for world class state-of-the-art care and if anybody could help him, they could.
Upon arriving in Durham we were overwhelmed by the professionalism and care offered at Duke Medical Center. We were also ministered to by many members of the Cole Mill Road Church of Christ who adopted us into their family. People such as Wanda and Lyle Storch took us into their home and made sure we were lacking for nothing and are now legendary in our family lore.
Several members at Cole Mill Road were also involved in Dad's care. One cardiovascular surgeon, Dr. Bob Jones, was, ironically, a Harding graduate; he was ever-present, making sure things went as they should. Although he didn't operate on Dad personally, as I recall, he helped train the surgeon who did. I remember that Dad was a little scared and overwhelmed at times at the prospect of such major surgery. I also remember another Cole Mill Road member, psychiatrist Dr. Dan Blazer, who would often stop by and look in on Dad and take the time to pray and counsel with him.
During the long surgical procedure, I decided I wanted to be by myself, so I took a walking tour of the Duke campus. I walked down to Sarah P. Duke Gardens and sat for a while and prayed for my father among the fire-burst roses and glowing chrysanthemum. The sun was shining brightly, and this was no Gethsemane, but the spiritual struggle seemed intense all the same.
I ventured up to the main quad, and as I stood among the ivy-covered, stone buildings and peered up at the soaring Gothic spires, I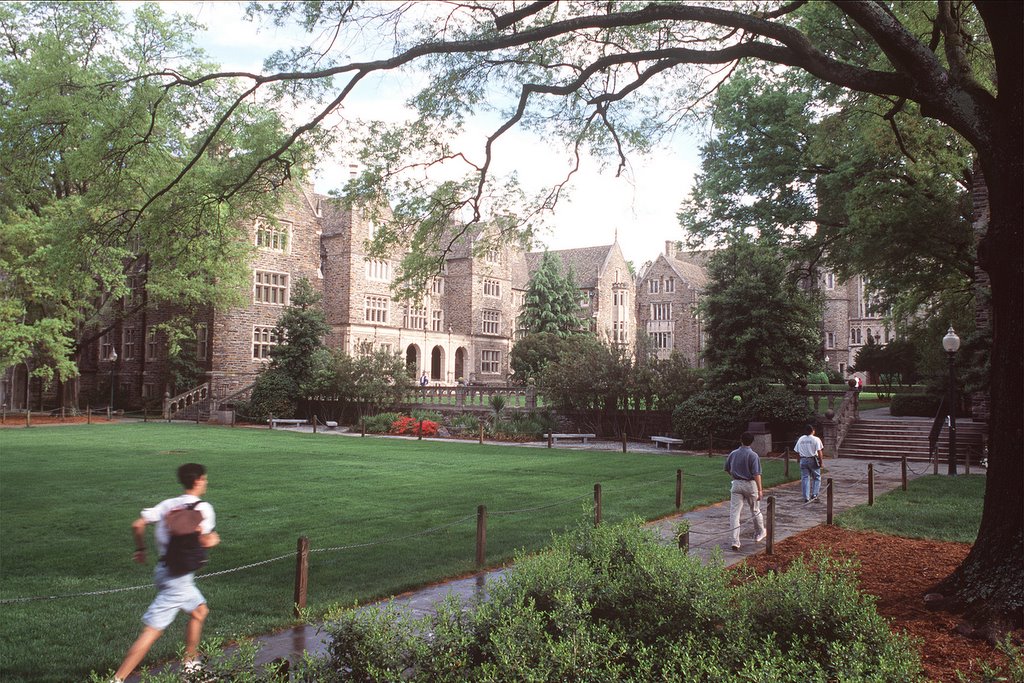 suddenly felt a little smarter than I actually was. All around me students laden with heavy backpacks scurried to various classes and lecture halls. I overheard morsels of animated conversations ranging from calculus to Shakespeare to what party was coming up next. Students played Frisbee, laughed, held hands, studied and meditated on the freshly-laid carpet of red and gold leaves covering the quad.
Amid the darkness of major surgery, this was light. I decided that Duke was a place where I could come and learn and discover my path. As I stood there taking in a lungful of Duke's rarified, academic air and considering the spiritual nourishment available at the Cole Mill Road church, I sealed my decision.
My father survived the surgery and for a while did well. But by late winter 1980, he was sick again and it was becoming more apparent that things were not going well.
In April of 1980, Dad sat in a lawn chair in front of our house, too weak to stand for any length of time. I was shooting baskets on the old, wooden goal that he had made many years earlier. At one point, I backed up about 40 feet and launched a one-handed heave which ripped cleanly through the nylon net, wrapping it tightly around the orange, metal rim (the shooter's coup de grace!). My Dad smiled and shook his head, no doubt remembering the undersized kid who cried when he first took a shot on his new goal and drew nothing but air and a face-full-of-ball.
A moment later, our rural mail carrier came down the hill and deposited a large, oversized envelope in our mailbox. It was the kind that every high school senior hopes for, far too big for a simple rejection letter. On the outside was the return address, "Duke University" and inside was a letter that said, "Congratulations…welcome to the Class of 1984." Honestly, if I presented my same academic credentials to Duke today, I probably wouldn't be accepted. But somehow in the spring of 1980, I managed to slip beneath the admissions radar.
My father fairly beamed and said, "I know this is expensive, but if Duke is where you really want to go, we'll try to make it happen."
Two weeks later, Dad entered the hospital for the last time. On April 22, 1980, he suffered his 3rd heart attack and died at the age of 47. I always worried a little that he might have spent too much energy and wasted a lot of precious breath in those final days telling every doctor, nurse and technician that walked into his room that his son had been accepted at Duke University.
Now please don't break out the small violins and start playing a dirge on my account. This story has a happy ending! Without Dad's financial support, I decided that a less expensive college option would be better for me and my family. As it turned out, that was Harding University.
Harding was the perfect place for a injured and doubtful young man to come and bind his wounds. I wandered through some dark alleys of disbelief and skepticism in those years, but I emerged with a faith of my own which has sustained me. I was surrounded by professors and companions who loved me and gave me the space I needed to work through my past. Many of them remain close and fast friends to this day. As I recall, no one ever told me what I had to believe–I was perfectly free to accept or reject what I was taught.
Along the way, I gained a vision for my future and found a woman who was willing to marry me and who stands with me to this day. I have three fine sons who are becoming honorable men before my very eyes. I have a Wonderful Life and "My boundary lines have fallen in pleasant places"–God is good!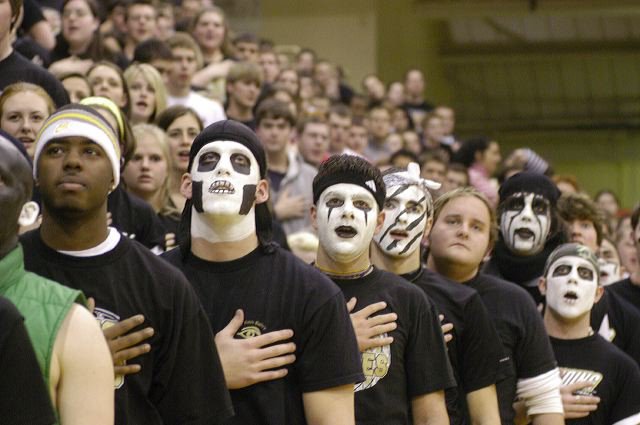 I also have two alma maters–an almost one and an actual one–both of whom have blessed and nourished me. To top it off, they even have a pretty good little basketball team down in Searcy, and having witnessed them firsthand, I'm here to tell you that the Rhodes Rowdies can give the Cameron Crazies a good run for their money.
And that, my friends, is how to this day, if you prick me with a pin, I bleed Blue Devil Blue. But if you look closely enough, you'll also see shades of Bison Black, dark as moonless night, blended with rivulets of glittering Gold, bright as noonday sun.