O say can you see,
By the dawn's early light,
What so proudly we hail'd
At the twilight's last gleaming?
Whose broad stripes and bright stars,
Thro' the perilous fight,
O'er the ramparts we watch'd,
Were so gallantly streaming?
And the rocket's red glare,
The bombs bursting in air
Gave proof thro' the night
That our flag was still there.
Playing a man down in the second half and fending off an Italian attack that in the final minutes of the match resembled a reenactment of the Battle of Fort McHenry, the Stars and Stripes did indeed survive the perilous fight which played out at Fritz-Walter Stadion in Kaiserslautern, Germany this past Saturday. Bloodied, tattered and torn, but intact, our lads emerged from the dark night of early extinction in the 2006 World Cup and lived to fight another day.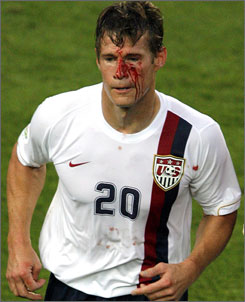 In what will surely be remembered as one the most bizarre, but courageous matches in U.S. National Team history, our boys, no, make that our men, fought back from a one-goal deficit, two red cards and an apparent go-ahead goal which was called back to win a hard-earned point in Group E play with a 1-1 draw against Italy. With Ghana's stunning 2-0 victory over the Czech Republic, Group E is scrambled to the point that the U.S. can advance to the second round if they can beat Ghana next Thursday and if the Azzurri can recover and oust the Czech Republic. The U.S. could actually advance even if Italy lost or tied the Czechs, but they would have to win as well as score several goals again Ghana, an unlikely scenario considering the anemic U.S. offense to date (even today's goal was an Italian "own goal" off Cristian Zaccardo's misplayed clearance).
My main concern after the last match was that the Americans show some moxie and manhood win, lose or draw. I was thrilled to see the effort that our team put forth today, almost scoring with only nine men on the field (that would have been a World Cup first) and fending off challenge after challenge in the closing minutes, with U.S. keeper Kasey Keller standing tall in goal and making two spectacular saves off dangerous chances by Italian striker Alessandro del Piero.
All in all, it was a wonderful result considering the circumstances, which included a nervous center referee, Jorge Larrionda of Uruguay, who correctly showed the red to Italian player Daniele de Rossi who flagrantly fouled and bloodied American Brian McBride with an elbow to the face, but was too quick on the draw against U.S. midfielder Pablo Mastroeni after his cleats up tackle to the ankle of Andrea Pirlo (it should have been a yellow on the first offense). Larrionda went on to eject American defender Eddie Pope with his second yellow of the day, again a situation where a more measured and calm referree would have called a foul only, given the magnitude of the game and the fact that both teams were playing with even sides when the offense occurred.
Larrionda has apparently been suspended before for erratic officiating and was not allowed to participate in the last World Cup in 2002. This was his first game on the international stage in many years, and I suspect it will be his last after the powers-that-be review the match film.
Manager Bruce Arena had his troops ready for battle this time around, but his decision-making and substitution management still, at times, befuddle me. For instance, about mid-way through the second half, it was apparent that McBride, who at age 34 is no spring chicken by international soccer standards, was exhausted to the point of being ineffective. It would have been the perfect time, it seems, to substitute speedster Eddie Johnson, who was one of the few American players to make some noise and produce some quality chances in the first match against the Czechs.
I'm betting that Johnson with his fresh legs could have run at and beat the Italian back line who were also showing some signs of wearing down. Alas, Bruce stuck with an old-guard veteran, a tendency of his which is starting to raise a few furrowed brows among U.S. soccer faithful. But tonight, we pause from picking too many nits and instead celebrate courage under fire and survival.
O Say Can You See? Yes, there they are, standing tall and proud on the ramparts, exhausted from having given the last full measure for team, for country, for us.