What's an American Guy to Do?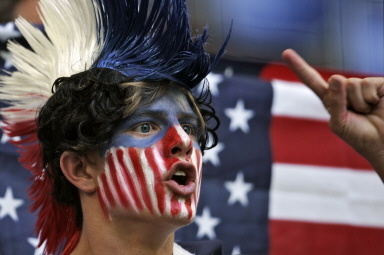 Although my Plan B (anybody but Brazil) is technically intact, please pardon me if I screw up my face in disgust while I try to choose a side to pull for in the remainder of World Cup 2006. What else is there for an American guy to do when his favorite team is eliminated in group play, all his other alternatives have bitten the dust, and the only remaining choices are Germany, Italy, Portugal and France?
Fortunately, two are relatively easy to eliminate. Italy's roster is chock full of whiney, flopping phonies who fret more over their pomade and Prada shoes than they do corner kicks and PKs.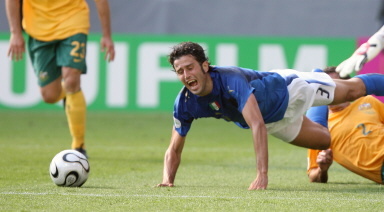 Aussies from Brisbane, to Melbourne, to Perth are still chapped over Fabio Grosso's Academy Award-winning dive in the box which led to the match-deciding PK against the Socceroos. Many of them have visited my post, "The Italian Way," and although none have left any comments (there is some grief that cannot be expressed in words), I can nevertheless feel their collective wrath surging through my high-speed internet connection. If I were the Azzurri, I would be checking my six for a short, shirtless wiry guy wearing a funny-looking hat and vest while carrying an oversized Bowie knife. There, now that's a dive!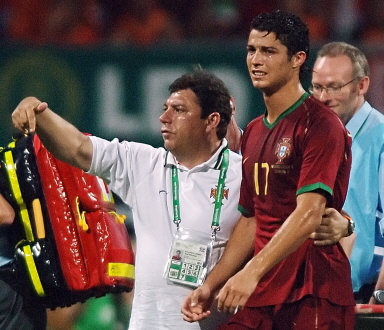 The other obvious throwaway is Portugal. It will be some time before the stench of their histrionic second round hack job against The Netherlands lifts from the international soccer scene. Many of the 16 yellows and 4 reds issued in that match came about from phonies such as Figo and Maniche who hit the deck and held their faces in their hands in blatant attempts to draw cards. Pretty boy prima donna Christiano Ronaldo is another fine reason to hate The Selection of the Shields (what kind of nickname is that anyway?). After the Netherlands banged his shins a little and sent him whimpering to the sideline, it took an army of trainers, coaches and psychologists to give him the group hug he apparently needed to keep him from totally losing his manhood in front of a worldwide audience.
And what about that "wink-wink" to his coach Luiz Felipe Scolari after ratting out Manchester United teammate Wayne Rooney for his little crotch stomp dance? No excuses here for Rooney—that cheap shot contributed mightily to England's cruel and disappointing demise. But for Pete's sake, Ronaldo, there's no winking in soccer! Portugal was lucky to play past two arguably superior teams in The Netherlands and England—their good fortune will run dry against Les Bleus.
Speaking of which, it is very tempting to root for the French because of one man—Zinedine Zidane. No, make that The Man. Zidane, who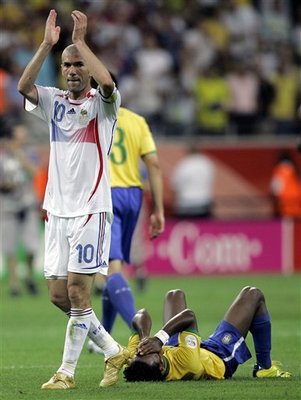 came out of international retirement after the French were having difficulty in early qualifying matches, is a consummate midfielder who possesses one of the finest touches in the game and is a veritable maestro at directing the attack and doing the million and a half other little things that must be done well in the middle third in order to win a match. He appears fit as a fiddle at the "ancient" age of 34 and much too young to retire, which he swears he will do for good following the completion of World Cup play. His goal against Spain and assist for the game winner versus Brazil sealed his legacy as one of the finest footballers of his generation. Surely there would be great justice served in such a fine player leading his country to glory to close out his career.
So, what's the problem? Well, first of all, I really haven't jumped on the "Freedom Fries" bandwagon. I figure the French have their reasons for distancing themselves from U.S. foreign policy. I may not always agree with them, but they are a sovereign country and when you get right down to it, they have the right to act in their own self-interest as they perceive it, just as we do.
No, my anti-French proclivities run much deeper than mere geopolitics. This is about that snooty French woman in the ticket booth at the Louvre in 1984. When I had trouble figuring out how many francs tickets sold for and apparently wasn't moving fast enough to suit her, she rapped my knuckles, shook her little Gallic fist in my face, and called me several unsavory names in French. I couldn't enjoy the Mona Lisa after that, and I still haven't forgot it. No, sorry Zidane, I cannot bring myself to cheer for Les Bleus. But I still think you are one of the greatest ever and have spruced up "The Beautiful Game" in a time when ugly play has threatened to sully its splendor. For that, we thank you.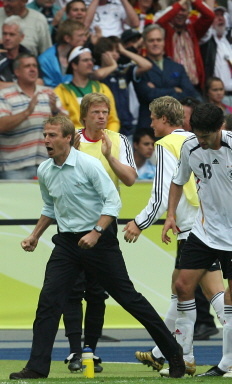 That leaves Die Nationalmannshaft. That's German for "National Team," not the latest Mercedes Benz supercharged engine designed for driving at breakneck speeds on the autobahn. The Germans are famous for their efficiency and technological prowess, national characteristics that manifest themselves on the pitch in the form of good team shape, crisp passing, superb defensive organization and strong finishing. Under the leadership of their young coach Juergen Klinsmann, who celebrates as wildly as his players anytime the Germans score, the Germans seem to be enjoying their moment in the sun in front of their large, exuberant home crowds. They have their own first-rate midfielder in Michael Ballack who, while not as elegant as Zidane, is nevertheless a relentless warrior who played through his painful leg cramps in the Argentina match and cracked a thunderous PK to help seal Germany's victory. Add to that prolific striker Miroslav Klose and a host of other top notch support players, and the Germans have more than enough to run the table. Oh, and who couldn't like a keeper like Jens Lehmann who keeps crib notes on opposing players tendencies in his socks for use during a shootout? If I was a keeper, that's the kind of thing I would probably do–I can relate to that.
I visited Germany on that same trip that I had my ugly encounter with the lady at the Louvre. I recall that the Germans I met were pleasant and hospitable and wouldn't have dreamed of admonishing and embarrassing me just because I was an "Ugly American." Then I think of the thoughtful and meticulous workers at the Ingolstadt Audi plant who put my little black A4 together, and I realize these are the same people who are donning the red, black and yellow and ponying up their last Deutschmark for a chance to cheer their squad on to glory.
Ok, I know, I know, that's not much of a connection, but like I said, what's an American guy to do in such circumstances? He holds his nose and "plays on," that's what he does.