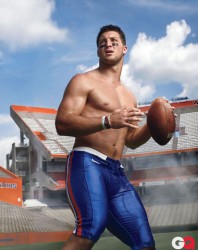 Last year this time, I was hoping that he would be long gone by now, but the boy just couldn't take a hint. You know, that boy: Captain America, Jim Thorpe and Billy Graham all rolled into one.
I was hoping that he would be safely tucked away on the sideline of some 2nd tier NFL team, doing whatever it is that former triple option quarterbacks do in the NFL (Hint: think headset and clipboard). Well, hope can do a lot of things, but it's not going to stop Tim Tebow when he starts churning those Sequoia Tree trunk-sized legs of his for yet another run up the middle, and it'll make little difference on 3rd and 5 when he flings a laser-guided cruise missile that comes screaming in, low to the ground, just past the outstretched fingertips of a cornerback and into the hands of a diving teammate.
No, there is only one thing that will stop Tim Tebow, and it's not hope and good intentions, nor is it a Kryptonite-laced virgin daiquiri. More on exactly what that might be in a moment.
But first, let me say that when it comes to Tim Tebow, I am a conflicted man. I like the guy, I really do, and I'm sure I would be among the throng of True Believers if he had opted to don crimson instead of Gator blue. I've always said that if he had come to Alabama, that Mike Shula would still have a job there. That might be a good thing or a bad thing, depending on your perspective.  He's a great player (THE GREATEST EVER? Meh. I don't know about that. There's been a lot of those) and perhaps an even greater person. From all indications, he backs the talk by walking the walk.
I know I'm taking my chances by panning Tebow even just a little bit (in The Bible Belt, it's a little like admitting you voted for Barack Obama), but there is still just something that makes me a little uncomfortable about all the Tebow hype. I've expressed my misgivings before, both here and here. But I've tried to take it in stride, stay above the fray, and not resort to tawdry (and all too easy) Tebow-bashing. He's just a kid, I tell myself. Granted, one that looks like a hypermasculine, cut-from-titanium, football cyborg, but a kid nonetheless.
It's probably not so much an aversion to Tebow himself, and certainly not to what he stands for. We wear different colored jerseys on Saturday, but come Sunday I'd like to think we're on the same team, albeit with a different style offense. Wearing scripture-inscribed eye black and pointing toward heaven every time I nail a refraction or stop a case of blindness dead in its tracks may not be my cup of tea, but who's to say there's not a place for that somewhere.
No, I think it's  probably more a phobia of hype in general. Probably comes from all those times I've bought into some myself, only to get burned by a poor return on my money. It's just hype, I tell myself. It'll go away, like hype always does. Just batten down the hatches, hold on tight, and this too shall pass…
When I was a boy, my Mama (pardon the down-home colloquialism, but I'm trying to become a Southern writer after all, y'all) used to have a way of knocking me back down to size when I started riding my high horse. "Somebody's gettin' too big for his britches," she'd say in that tone of hers. Those words were like the freight train just prior to a tornado–if you wanted to save your skin, better dive in a hallway closet and duck and cover. Even if you somehow managed to avoid one of her patented smacks-across-the-mouth, she could still shoot you down with one of her laser beam looks. Those were intense enough to burn your retinas if you looked her in the eye, but you never did because you had your head hung low and were on your knees, groveling for mercy.
It may be part my raisin' (oops, there I go ag'in), and part disposition, but I have a hyperacute, pretension-detection meter wired into my skull, and last Saturday it started going off so loud during Senior Day at The Swamp that it made my head throb like a Geiger counter at Three Mile Island. I know I shouldn't have watched it, that I should have just turned the blame thing off and walked away. But it was like crawling past a 6 car pile-up on I-65 with a dozen emergency vehicles in the median strip.  I just had to crane my neck like one of those pretty blue herons at Lake Guntersville and gawk.
It was that grandiose music that they piped in full blast over the loud speakers as Tebow ran onto the field that put me over the edge as much as anything. I don't remember enough of my music appreciation class to tell you the name of it, but it seemed like something straight out of Aaron Copland, a Fanfare for The Uncommon Man, the kind of overwrought, arching, soaring, double-rainbow, fireworks-in-the-sky overture that should only be played when one is standing, eyes abrim with tears, before an awesome work of God, like the rim of The Grand Canyon at a burnt-orange sunset.
I watched all that, recognizing full well that Tim Tebow is a great player and probably an even greater person, that he deserved an appropriate sendoff on Senior Day, one commensurate with his long resume of awards and accomplishments, and yet I felt that he didn't deserve that. Really, that nobody did. Except maybe Jesus. And only then after he rose from the dead.
It was at that moment that I felt that maybe Tim Tebow had become too big for his britches. I'm not suggesting that he scripted  any of that. I'm sure his handlers in the UF Athletic Department and the media gurus at CBS crafted The Grand Exit, right down to the choice of music and the color of the fireworks. But in that moment, things seem to shift, like the earth was wobbling just a little off its axis. I felt then, and I haven't been able to shake it since no matter how much I've tried to talk myself out of it, that Bama is destined to win.
Some believe in Karma and some believe in The Lord and some in a pantheon of football gods–Rockne, Heisman, Robinson, and of course, The B'ar–but we all know that when things get unbalanced and out of alignment, unseen forces move in mysterious ways, righting what is tilted, mending what is torn, tearing down what has been built and lifted up.
But this is about more than cosmic justice. This is about winning the line of scrimmage, and there will be blood. I can tug on Superman's cape until the cows come home, but ultimately the only thing that will stop Tim Tebow is a well-stuck tackle, like tick on hound dog. The only fool-proof missile defense system is to have a throng of burly, well-fed boys in his grill on every passing down, so that 3rd and 5 suddenly seems like 4th and 40 (and we do have some stout young men).  Lloyd Carr and the Wolverines proved 2 years ago that if you keep flashing that kind of kryptonite, Tim Tebow wilts just like the rest of us mortals. If they can do it, there's no reason why we can't either.
Enough with the hype already! I'm ready for some balance to be restored to college football. I'm ready for a return of the day when players were players and coaches were coaches, and neither stood there on the sideline, cheek to cheek, looking all doe-eyed at each other. I'm ready for some old school trench warfare, and may the best team win.
Tim, nothing personal brother, but I hope Bama beats the living heaven out of you. If I was of sound enough body and they'd toss me one of those crimson jerseys, I'd run out there and try to do it myself.
Roll Tide, Roll.