Near the Foothills of the Ozarks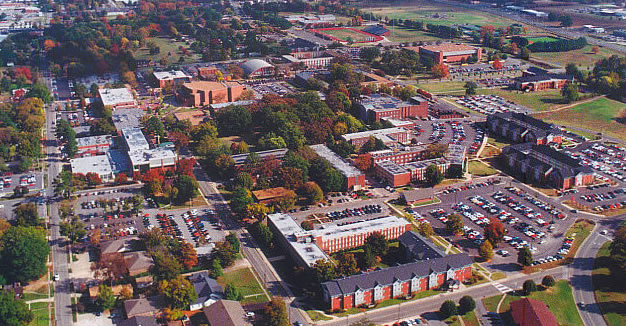 I'll be headed west today to pay a call on my alma mater, Harding University (Hail!).
Number One Son has been there attending Honors Symposium the last two weeks, hopefully staying out of too much trouble while bulking up the ol' grey matter. When I first heard about Honors Symposium I thought it was some sort of "boot camp for the brain," but when I talked to the parents of previous attendees, I realized it was much more than that.
It's actually a two-week session of interesting interdisciplinary classes with catchy titles like, "Designer Genes: Technology and the Creation of the Western Dystopia," and "The Bain of Cobain," punctuated with service projects, camping, field trips, rock climbing and generally just hanging out with some very cool kids from around the country. Ultimately, it amounts to a very slick (and effective) recruitment tool, and I fully expect to have to kidnap Number One and drag him kicking and screaming back to Huntsville.
Note to self: bring a blindfold and some rolls of duct tape.
I'm looking foward to touching bases with some old friends as well as meeting some new ones. For instance, I'll also get a chance to meet a couple of fellow bloggers, David Underwood and Mark Elrod. According to Number One, this will make me somewhat less of a geek since I will have actually met some of the people that I know online. I'm not sure if I should trust him in such matters, but what choice do I have?
The only part I dread about the trip is the stretch between Memphis and Searcy, which is pretty boring for most folks unless you're really into rice, cotton and alfalfa. When I came to Searcy as a freshman in the summer of 1980, my Mom and I were driving this uninspiring piece of highway when I looked over at her and saw her gazing around in horror with tears streaming down her face: "You're coming here?"
She felt a little better after she actually saw Harding for the first time and much better after she saw how I grew and changed for the better after I'd been there for a while.
It'll be interesting to hear the stories and to find out what Number One is thinking after this. As for me, Harding has always remained a "mecca" of sorts for me, stirring a lot of coming-of-age memories which were formed near the "foothills of the Ozarks."
Note to self: Bring plenty of CDs for the stretch between Memphis and Searcy.