When I started Ocular Fusion 2.0 a couple of months ago, I gave you all fair warning that the retina in my header really works. Well, I wasn't, as we say in these parts, "just whistling Dixie."
Behold: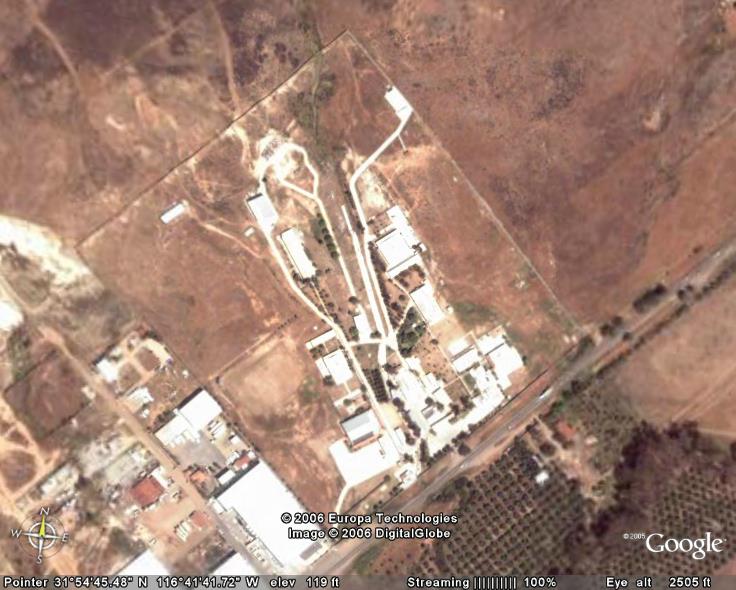 Ok, maybe I did have a little help from the folks at Google Earth, but what you're seeing is a nice satellite image of the City of Children in Ensenada, Mexico. Eyegal and Number Two Son have trekked there this week as a part of a missionary group from our church. Number Two is busy with some building projects, teaching VBS, playing soccer (an indispensable part of any mission effort) and generally enjoying hanging out with the kids there. Eyegal, as best I can tell, is busy cooking, teaching, manning the group's laptop (a nice excuse for sending emails to yours truly), and holding and caring for muchos bebitos.
I especially like that last part since I know that Eyegal still has a lot of pent-up maternal energy that needs an outlet, and she sure isn't going to be getting any help from me in that department.
I found Ensenada easily enough and was pleased that it was one of the areas on Google Earth with exceptional resolution. I then proceeded to ask in an email for the general location of the orphanage. Better yet, I figured that some rocket scientist down there (Huntsville has a few of those) would have a GPS device tucked away in his pocket protector, and sure enough, I was right. With the exact coordinates in hand, it was a piece of cake to zero in on the precise location.
So if you're down Ensenada way and happen to be reading this, beware that the Eyeguy in the Sky is watching your every move. Eyegal, you put that bebito back right now!
Actually, there's someone watching over them who's much more capable than me, and it's into His safekeeping that I commit them all with my prayers hasta la vista.