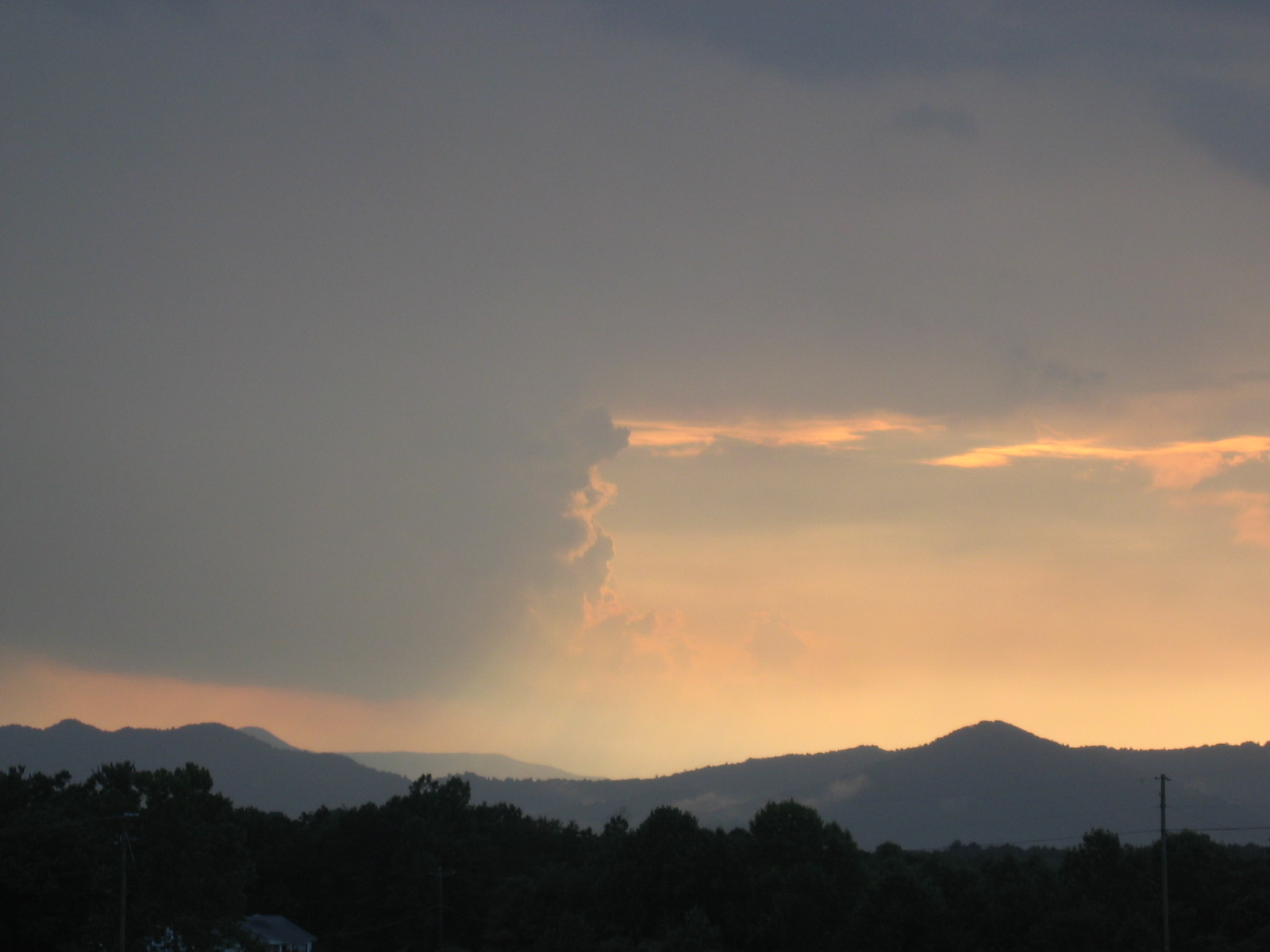 I've been grabbing some much needed and overdue front porch time in my homestate of Virginia this week. The view above is from a couple of nights ago as a late evening thunderstorm rolled into the valley where I grew up. That particular storm blew the roof off the Virginia Transportation Museum in downtown Roanoke. I know that probably didn't make the A.P. wire, but it sure got the attention of folks around here.
Besides sitting on the front porch taking in an eyeful of Blue Ridge Mountains, here are a few of my other favorite things to do when I'm in Virginia:
Eating biscuits slathered with Virginia apple butter for breakfast while my Mom catches me up on who's died, divorced and generally done what to whom
Rummaging through the basement, attic and my old room and discovering some long lost treasure
Running the same country roads that I trained on as a teenager and getting chased by the barking, snarling canine progeny of the same dogs that chased me in the late 70s. Talk about adding a little "gitty-up" to your step
Lapsing into my native southwest Virginia lilt when I talk with family and old friends, saying things like "Vah-GIN-ya" and "YES-tiddy" for "yesterday."
Visiting the Roanoke City Market and having a "dog with the works" from the Roanoke Wiener Stand
Placing an American flag on my father's grave since I wasn't able to be here on Memorial Day
Worshiping at the church where I grew up with the now aged saints who in their 20s, 30s and 40s worked hard to make sure that I grew up knowing my Bible, fearing God and behaving like a decent person. In postmodern, emerging church vernacular, that's known as "spiritual formation."
If I have time after all that, I may even visit my old high school and reminisce a little about the so-called "Glory Days." The Boss would approve.
Actually, I'm very happy to live in the present and frankly wouldn't want to do it all over again. But there's something to be said for getting in touch with your roots and drawing a little nourishment from memories of the past.
I may live in the "big city" now, but when you get down to it, "you can take the boy out of the country, but you can't take the country out of the boy." Especially when he settles down on the front porch on a muggy July evening and watches God ride in on clouds of thunder.
Praise the LORD from the earth,
you great sea creatures and all ocean depths,
lightning and hail, snow and clouds,
stormy winds that do his bidding,
you mountains and all hills,
fruit trees and all cedars…
Psalm 148:7-9