According to Augustine, the key point in his conversion came when he heard the sing-song voice of a little girl telling him to "tolle lege" or "take up and read." The book she was referring to was The Bible, and when Augustine obeyed, his eyes fell upon Romans 13 and the rest is, as they say, history.
Now comes another otherworldly voice offering a good piece of advice– "Buy, take up and read."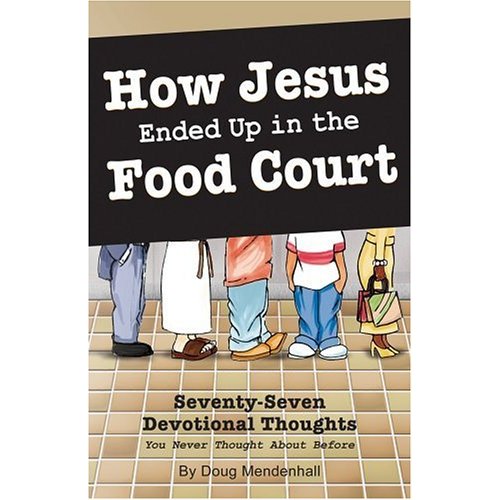 This time the book is entitled How Jesus Ended Up in the Food Court: Seventy-Seven Devotional Thoughts You Never Thought About Before by my good friend Doug Mendenhall. Doug is a graduate of Abilene Christian University and a writer and editor at the Huntsville Times. For several years now, Doug has been serving up some heapin' helpins' of spiritual nourishment in his regular column "Soul Food." Although I still don't have a copy of the book (don't worry Doug, I haven't forgotten the six signed copies that I pledged to purchase), based on the way Doug's words have help satisfy my spiritual appetite over the years, I feel confident in recommending it sight unseen. For a board certified Eyeguy who mostly holds to the old adage "seeing is believing," that's saying a lot.
So, redimo, tolle lege–"buy, take up and read." After all, Doug's got to cover the cost of publishing this puppy, plus he's got five wonderful kids to feed and put through college!
(For those of you who live in the Huntsville area, Doug already has a few cases sitting in his office. Stop by the Huntsville Times building and pick up some copies–they'll make great Christmas gifts. Tell him the Eyeguy sent you.)