The Heartbreak of Presbyopia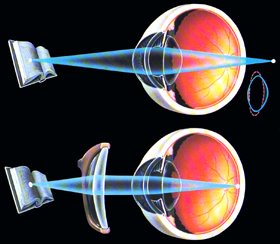 As I type these words, my personal chronometer is starting its annual rotation–"44 years"–and the words on my computer screen are crystal clear. No haloes, no fuzz, no fuss. Through the miracle of modern optics, I've fooled my brain into thinking that it's 1984 again, when my limbs were limber and my eyes as sharp as an eagle's. All is quiet on the Old Age Front. Quiet, that is, as long as I keep my head completely still and my eyes perfectly centered through the sweet spots of my birthday present–a brand spanking new pair of progressive addition, "no-line" bifocals.
For those of you who are still under the age of forty and therefore clueless, I'm referring to the malady that I've come to call, The Heartbreak of Presbyopia. Presbyopia comes from the Greek presbyter, meaning "old" or "elder" and the word for "eye," optos. Put it all together and you get "old eyes" or "elder eyes," if you prefer. Basically what happens is that the ciliary muscle which helps control the shape of the lens–which must grow more convex or "fatter" to see clearly at near–becomes, like all muscles, "stiff" with age. Add to that the fact that the lens itself becomes less flexible and what results is a perpetual browache, forehead furrows as deep as those produced by a John Deere tractor, the tendency to read books with arms outstretched and the constant lament, "Would someoneplease turn on the %#@*& lights?!"
You would think that a battle-hardened optometrist like myself would not be bothered much by these cold, hard facts of anatomy and physiology. But for me the Heartbreak of Presbyopia has been no less severe than the average John or Jane sitting behind the phoropter. Although I've been prescribing glasses for presbyopia for years, there is no way some know-it-all, wet-behind-the-ears optometrist in his late twenties can possibly relate to the emotional and physical anguish that is the Heartbreak of Presbyopia. I've often laughed at the lengths to which people will go to avoid reading glasses, including setting material on the ground when they run out of arm. But now I cringe when I think of how I've handled emotionally fragile emerging presbyopes in the past:
Patient: "Doc, (sniff, sniff), it's terrible! I just can't see the small print anymore, my arms are too short and if I get those horrible bifocals with the lines in them, everyone will know (gasp!) how old I am, waaaaaa!"
Me: "Ah, quit your belly-aching and grow up why don't ya?! All God's children got circumstances, so get up, get out and get over it! Next?!"
The fact is, I've also been in denial and resorting to extreme measures to avoid bifocals–even the dreaded pencil pushups. For the uninitiated, pencil pushups were first conceived in the torture chambers of medieval Europe. Many a coerced confession was extracted from some poor soul by forcing him to focus on the tip of a writing instrument while a hooded torturer would gradually bring the pen or pencil closer to the prisoner's nasal bridge. With an inquisitor screaming, "Keep it clear, keep it clear!," the victims' eyes were forced to converge to the point of extreme discomfort and would sometimes even break loose from their muscle insertions. This would produce the "spinning globe" effect which often freaked out the torturers at least as much as the victims themselves.
With the advent of modern optometry, pencil pushups were found to have some value in training young people to use their eyes together more efficiently and to focus more accurately. For emerging geezers such as myself, however, such desperate measures are an exercise in futility. Unlike the heart muscle which responds to stress by growing stronger, the ciliary muscle only grows fatigued and upset, eventually responding with a whimper and a sigh, "Please, enough already!" So, a couple of weeks ago, I took the plunge, got behind the phoropter and refracted myself (yes, most of us do our own) and ordered my first pair of progressive addition, or "no-line" bifocals.
Now it's true that if you get a lineless bifocal, your friends may not be able to guess that you're somewhere on the far side of 40. Of course, there may be other telltale signs such as receding hairlines, graying temples or middle age paunch (aka "Beer Belly") to give away your age. However, with various hair remedies available and the existence of beer belly now being seriously questioned by major news organizations, it seems like an opportune time to pony up the major bucks and carry out the Perfect Ruse.
Alas, there is no such thing as a free lunch. Along with the useful deception comes the fact that now you must become a walking bobble-head doll, constantly turning and nodding your head to keep the eyes centered in the "sweet spot" or channel of clear vision that runs through middle of the lens.
If you make the mistake of turning your eyes like God intended you to, then life suddenly becomes a little more precarious. The distortion that you get through the edge of your average no-line bifocal lens causes blurry peripheral vision. I discovered this immediately as I backed up in the parking lot after putting my new glasses on for the first time. As I looked over my shoulder and cut my eyes to the left, the cars parked behind me began to dance merrily around in a mirage-like shimmer, laughing and taunting me as I gingerly released my clutch into a nervous reverse.
It's also good to remember that normal peripheral vision has important survival value, such as the ability to detect and avoid the large, Mack truck which may be hurtling toward you at the local crosswalk. Wearing a no-line bifocal may lead to the following scenario:
Cop # 1: "Say, how old do you think that stiff is over there who just got pancaked by that semi?
Cop # 2: "I'm not sure, but he can't be over 40 because there's no bifocal line in his glasses."
Actually, I'm relieved to see that the same old line that I feed all my patients about "glasses are like new shoes–they feel weird at first but after a week or so you break them in," is for the most part true. The distortion isn't nearly as noticeable now and I no longer have to throw back a handful of ibuprofen in order to get rid of that pesky browache. Ah, sweet surrender!
But from now on, I think I'll be a little more sympathetic when my patients come in for their first bifocal. Having "felt their pain" and experienced the Heartbreak of Presbyopia firsthand, "the chickens have come home to roost," and I think I'll lend a more empathetic ear. Here sits one bespectacled, Foghorn Leghorn who's having to eat a little crow.